BUSINESSWIRE PRESS RELEASE
Key Findings for the Global Enzyme-Linked Immunosorbent Assay Testing Market 2018-2022 | Technavio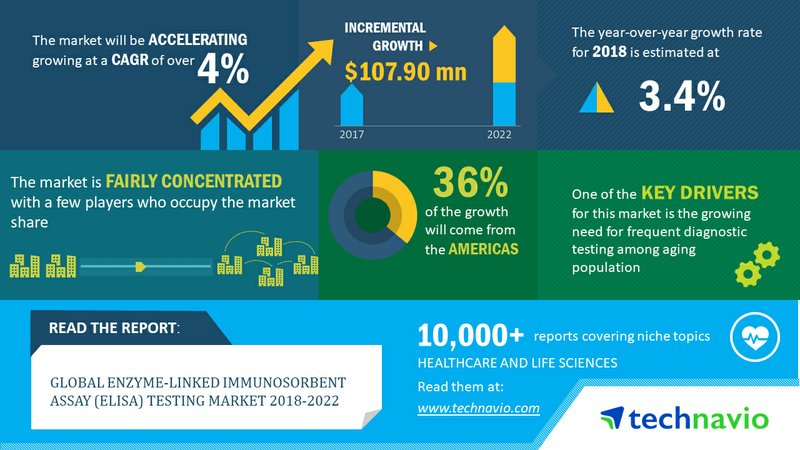 Key Findings for the Global Enzyme-Linked Immunosorbent Assay Testing Market 2018-2022 | Technavio
BUSINESSWIRE PRESS RELEASE
Key Findings for the Global Enzyme-Linked Immunosorbent Assay Testing Market 2018-2022 | Technavio
LONDON--(BUSINESS WIRE)--May 12, 2018-- market research analysts forecast the to post a CAGR of over 4% during the forecast period. The increasing cases of cancer are emerging as a key trend that will impact the market.
This press release features multimedia. View the full release here: https://www.businesswire.com/news/home/20180512005041/en/
Technavio has published a new market research report on the global enzyme-linked immunosorbent assay (ELISA) testing market from 2018-2022. (Graphic: Business Wire)
The prevalence of cancer has increased due to various reasons such as unhealthy diet, lack of physical activity, tobacco use, and excessive alcohol consumption. With increasing incidence cases, there is a parallel rise in cancer diagnosis and treatment. Cancer biomarkers are present in tumor tissues or serum and incorporate a wide variety of molecules. ELISA testing helps in the identification of cancer biomarkers which can be used for prognosis and treatment protocols.
This report is available at a USD 1,000 discount for a limited time only:
Save more with Technavio. Buy2 reports and get the third for FREE:
In this report, Technavio analysts highlight the growing need for frequent diagnostic testing among aging population as a key factor contributing to the growth of the global ELISA testing market:
Growing need for frequent diagnostic testing among aging population
There has been a global increase in aging population owing to numerous factors such as increasing life expectancy and better healthcare facilities. As per World Bank, in 2016, the elderly population comprising of people aged 65 years and above represented close to 9% of the global population. Furthermore, there is a growing prevalence of both communicable as well as non-communicable diseases in this segment of the population, with cardiovascular disease, lung disease, cancer, and stroke being the leading causes of death.
According to a senior analyst at Technavio for research, "There is now a global burden of disease which needs to be prevented, diagnosed, and treated. ELISA testing techniques allow quick and efficient screening of multiple human serum samples for various antigens associated with different cancers. They can thus help doctors to diagnose the disease, measure its progression and plan treatment protocols."
Looking for more information on this market?
Technavio's sample reports are free of charge and contain multiple sections of the report such as the market size and forecast, drivers, challenges, trends, and more.
Global ELISA testing market - segmentation and analysis
This market research report segments the based on based on end-user (hospitals and diagnostic centers, research laboratories, and others) and key regions (the Americas, APAC, and EMEA).
In 2017, the hospitals and diagnostic centers segment held a market share of close to 42% owing to rise in infectious and chronic diseases followed by research laboratories and other segments .
The Americas held 42% share of the market owing to advances in the adoption of diagnostic equipment in the region. The Americas was followed by EMEA owing to the shift toward preventive and personalized healthcare along with the easy availability of efficient diagnostics procedures. EMEA was followed by APAC held the smallest share of the market, however, it is expected to exhibit the maximum growth during the forecast period owing to increasing awareness of ELISA testing in the region.
About Technavio
is a leading global technology research and advisory company. Their research and analysis focuses on emerging market trends and provides actionable insights to help businesses identify market opportunities and develop effective strategies to optimize their market positions.
With over 500 specialized analysts, Technavio's report library consists of more than 10,000 reports and counting, covering 800 technologies, spanning across 50 countries. Their client base consists of enterprises of all sizes, including more than 100 Fortune 500 companies. This growing client base relies on Technavio's comprehensive coverage, extensive research, and actionable market insights to identify opportunities in existing and potential markets and assess their competitive positions within changing market scenarios.
If you are interested in more information, please contact our media team at .
View source version on businesswire.com:https://www.businesswire.com/news/home/20180512005041/en/
CONTACT: Technavio Research
Jesse Maida
Media & Marketing Executive
US: +1 844 364 1100
UK: +44 203 893 3200
www.technavio.com
KEYWORD:
INDUSTRY KEYWORD: HEALTH HOSPITALS INFECTIOUS DISEASES MEDICAL SUPPLIES
SOURCE: Technavio Research
Copyright Business Wire 2018.
PUB: 05/12/2018 01:51 PM/DISC: 05/12/2018 01:51 PM
http://www.businesswire.com/news/home/20180512005041/en