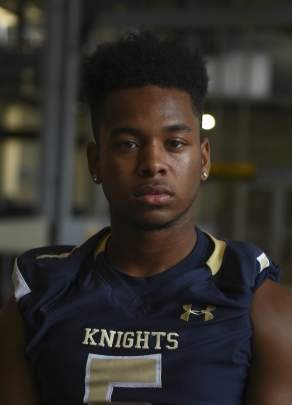 With size, speed and athleticism, most really good safeties are really good on offense, too.
Washington's Dan Walker made 33 catches and scored 12 touchdowns last season, for example. Jayvon Thrift led Norwin in rushing yards.
But it's often their aggressive side that makes them shine most on defense. Jeremiah Josephs had 53 receptions last season for Gateway, second on the team behind only star wideout Courtney Jackson. But Josephs' junior season is remembered most for his game-winning, goal-line interception against McKeesport.
These six safeties all hold Division I scholarship offers, and they all make an impact on Friday nights.
1. Dan Walker Jr.
Washington, sr., 6-2, 195
Walker has played in the WPIAL for only one season but already he's made an impact. The ball-hawking free safety had four interceptions last season as the Prexies won the WPIAL Class 2A title. He held a Louisville offer when he moved home from Georgia, and added Cincinnati, Temple, Akron and others.
2. Corey Thomas
Penn Hills, sr., 6-3, 180
Thomas has the size to play linebacker in college, but for now he's one of the WPIAL's best safeties. He starred last season for Central Catholic before transferring to Penn Hills. He lists FBS offers from Army, Ball State, Buffalo, Bowling Green, Indiana, Navy and Toledo.
3. Jayvon Thrift
Norwin, sr., 5-11, 190
The hard-hitting strong safety made 48 solo tackles (79 total), one interception and one sack last season. Thrift announced offers this summer from Ohio and Youngstown State, joining a list that included Pitt, West Virginia, Indiana, Syracuse and others.
4. Jeremiah Josephs
Gateway, sr., 5-11, 170
Josephs made seven interceptions and a team-high 76 solo tackles last season (126 total) as the Gators reached the PIAA Class 5A final. His most memorable INT was a game-winning grab in the end zone against McKeesport. He committed to Miami (Ohio).
5. Konota Gaskins
McKeesport, sr., 6-1, 190
The Tigers graduated a couple of key pieces from the secondary, but Gaskins returns. Now also the team's quarterback, he showed his speed a year ago with a 60-yard interception return. He lists D1 offers from Albany, Bowling Green, Youngstown State and four others.
One to watch
Ryan Jackovic
Quaker Valley, sr., 6-5, 210
Jackovic emerged as a postseason star for the Class 3A state champion, including a seven-tackle, two-interception effort in the WPIAL finals. He finished the season with 76 tackles and seven INTs. He received his first D1 offer this month from Army.