The Latest: Deal reached to end Tacoma teachers' strike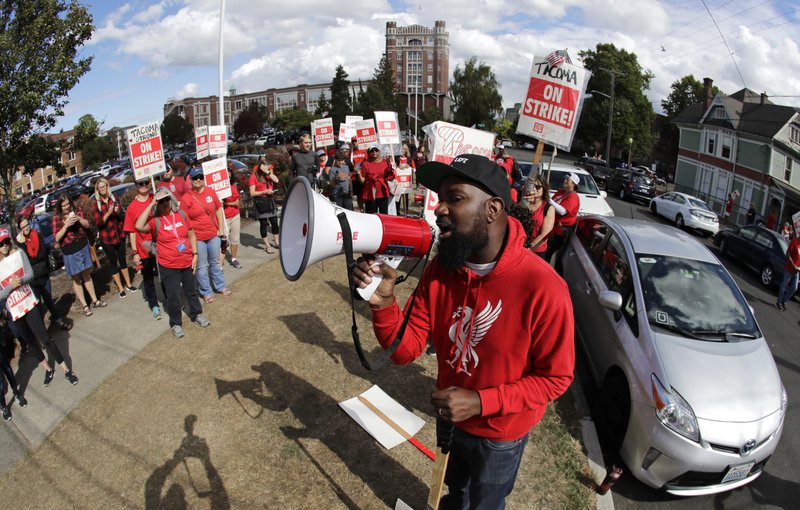 The Latest: Deal reached to end Tacoma teachers' strike
The Latest: Deal reached to end Tacoma teachers' strike
TACOMA, Wash. (AP) — The Latest on teachers strike in Tacoma (all times local):
9:25 p.m.
Teachers in Tacoma and the school district have reached a tentative agreement to end a weeklong strike.
Tacoma Public Schools and the teachers' union announced the deal Thursday night. They said classes are scheduled to begin Monday, pending a vote by the Tacoma Education Association on Friday.
Teachers went on strike Sept. 6 over salary increases.
Bargaining units at most of the state's 295 school systems have sought to renegotiate salaries this year after the state infused $1 billion for teacher pay to resolve a long-running court battle that determined the state was inadequately funding public education.
11:22 am.
The Tacoma school district says it may sue its teachers union if teachers continue their strike over contract negotiations.
The Seattle Times reports the teachers strike has kept thousands of children out of classes for almost a week as the Tacoma Education Association continues pressing Tacoma Public Schools for an increase in salaries.
Strikes by public employees are illegal in Washington.
Dan Voelpel, a spokesman for Tacoma Public Schools, said in a Wednesday phone interview that taking legal action is "certainly an option that's under consideration." He says the district is considering all options that could end the strike as quickly as possible.
Angel Morton, the president of Tacoma's teachers union, says teachers will resume work when the district agrees to pass money from a supplement state budget to educators.