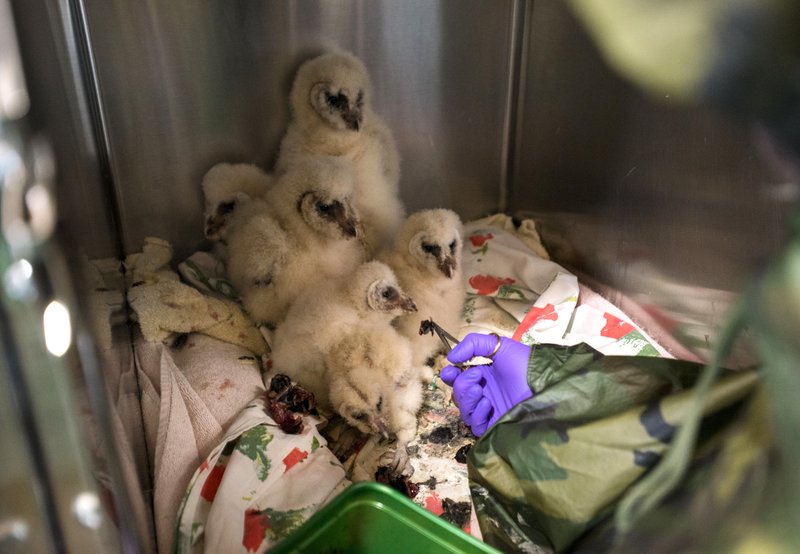 JACKSON, Wyo. (AP) — A Wyoming wildlife rehabilitation center may consider turning away any storks carrying baby owls that show up for a while.
The Teton Raptor Center in Jackson Hole took in 19 owlets last week from the three separate clutches, broods of young owls, within 24 hours. All the baby owls were from Idaho.
The nonprofit center never housed more than 18 injured, orphaned or ill birds of prey at one time, and it suddenly had 27 raptors on its hands.
"It's not uncommon to get clutches, but it is uncommon to get three at once," Teton Raptor Center Rehabilitation Director Meghan Warren said. "This is a record breaker in many ways."
The rush of baby owls started with a call last Thursday from the Idaho Fish and Game Department, which acquired a six-bird clutch displaced when a hay bale was moved. The next day two more barn owl clutches were recovered in the Idaho Falls area and sent to the center in Wilson.
Staff at the center planned to transplant the owlets into eight or nine other known barn owl nests in the region. For obvious reasons, dumping 19 of the little owls onto one pair of adults isn't a good option.
"What we'll do is we'll put these babies into a few different nests," Warren told the Jackson Hole News & Guide.
Barn owls are a particularly good species for fostering parentless young because they typically stagger laying eggs and then simultaneously raise young of various sizes. One of the Teton Raptor Center's current clutches, for instance, includes owlets ranging from 2 ounces to 1 pound, Warren said.
"In not too long, the older ones are going to be starting to fly, and they're not going to stay in the nest box," Warren said. "If we can't find nests, what we'll do is we'll raise them here. We'll give them lots of opportunity to practice hunting on wild mice, but once we let them go, they're on their own."
___
Information from: Jackson Hole (Wyo.) News And Guide, http://www.jhnewsandguide.com