Gatlin still going strong with new coach at age of 36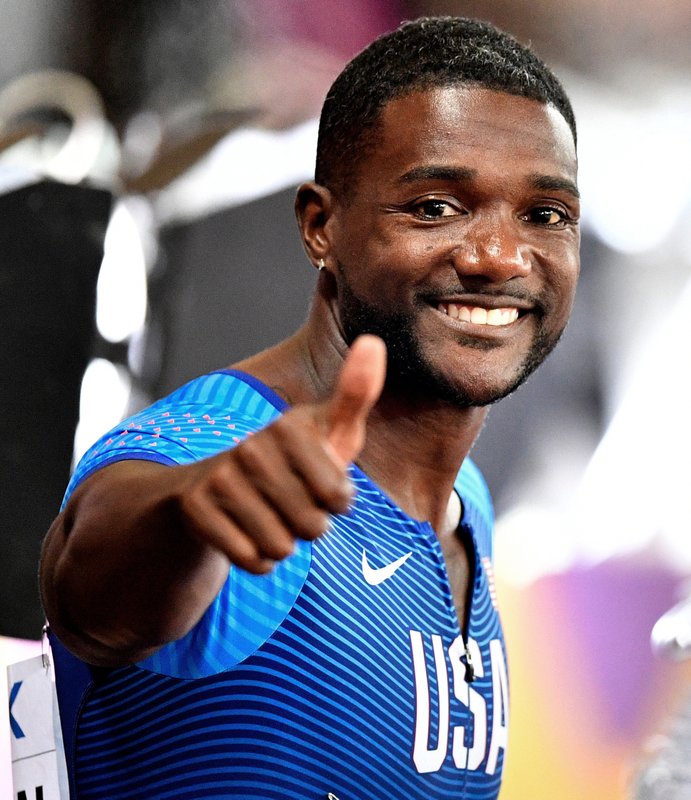 Gatlin still going strong with new coach at age of 36
Gatlin still going strong with new coach at age of 36
By STEVE MEGARGEE
Apr. 13, 2018
KNOXVILLE, Tenn. (AP) — Justin Gatlin recently turned 36, elderly by sprinting standards.
Yet the reigning world 100-meter champion and 2004 Olympic gold medalist shows no signs of slowing down. Gatlin even finds himself starting over with a new coach who actually happens to be a familiar one.
"As a sprinter, you just take it year by year," Gatlin said Friday. "I never imagined myself still doing this at 36, but I never really thought about age as a factor also. I listen to my body. If my body's telling me I can do it this year, I'm going to go out there and do it. If my mind's telling me I'm done, then I'm going to hang it up."
This represents a new chapter in Gatlin's career.
Gatlin fired Dennis Mitchell in December and replaced him with Brooks Johnson. Gatlin said Johnson previously coached him in 2011 and that they'd kept in touch.
"The community's so small in track and field, so I'd see coach (Johnson) everywhere," Gatlin said. "He'd always give me praise and support going forward even when we parted our ways back in 2011. To be able to come back, it wasn't even a second thought. It was, 'Hey, coach, let's get back together.' "
Gatlin fired Mitchell after an investigation appeared to show Mitchell and a track agent offering to supply performance-enhancing drugs to undercover reporters from British newspaper The Daily Telegraph.
Gatlin said at the time on his Instagram account he "was shocked and surprised" and that "I fired him as soon as I found out about this." Gatlin, a five-time Olympic medalist who won the 100 at Athens in 2004, has served two doping bans in his career.
He said his familiarity with Johnson has helped with the transition.
"It felt great to be able to have support not just from family members and the inner circle but to have people who stood up and said, 'You know what, come over here, don't miss any kind of important training getting ready for the season, (and) whatever you need, we're here for you,' " Gatlin said. "Brooks Johnson has been that guy for me."
Gatlin, a former University of Tennessee track star, is back at his alma mater this week attempting to break the American 4x100 relay record as a special event Saturday in conjunction with the Tennessee Relays.
His relay teammates include former Tennessee star Christian Coleman , Ronnie Baker and Mike Rodgers. Coleman won all four 2017 NCAA sprint titles, finished second to Gatlin in the 100 at last year's world championships, and recently set the world indoor record in the 60-meter dash .
"We're just trying to make a different platform for the sprinters," Gatlin said. "Instead of just competing against each other all the time, (we're) really coming together and trying to show some camaraderie throughout the year, not just in the United States but professional athletes all around the world."
Johnson isn't in Knoxville this week, but Gatlin said his new coach had "texted me all day long like we're pen pals."
"He's excited," Gatlin said. "He's itching to see what we're going to do here, and then get ready for the season. I'm happy to be back with him, happy to have that opportunity to work with him and the team that I'm working with now."
___
Follow Steve Megargee at www.twitter.com/stevemegargee