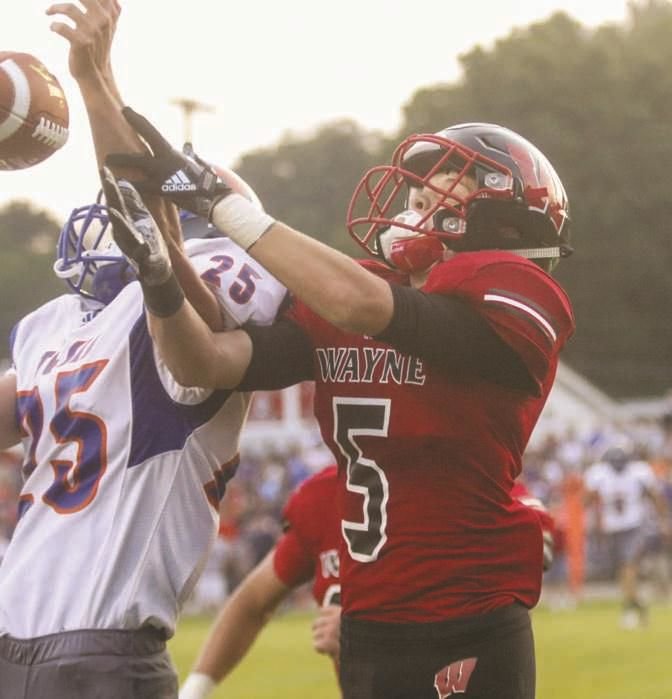 SPRING VALLEY — As Spring Valley head coach Brad Dingess watched video in preparation for Friday's football season opener with Wayne, there was one dilemma that kept sticking out to him.
"It's like trying to prepare to play against yourself," Dingess said. "We used a lot of the same terminology and, on both sides of the ball, we do a lot of the same things."
So how difficult does that make this week's preparation?
"There's certain situations where you do things and they probably know it better than anybody," Dingess said. "Our offenses are the same, pretty much. There's a lot of the same basic principles and it's like, 'My God, what do you do now?' You're trying to come up with different things to break your own rules that you've been teaching your kids for years. It makes it tough. You try not to overthink it. We've just got to go play."
The fact that Spring Valley and Wayne have a similar system is no accident.
Dingess credited Wayne coach Tom Harmon for being one of his major coaching influences.
In fact, the last time Wayne and Spring Valley met on the field in 1999, Dingess was atop the Wayne press box as a volunteer on Harmon's staff while he was head coach at Wayne Middle School.
"I was head middle school coach and helped out with varsity," Dingess said. "I was up there with Greg Wellman. I've learned a lot off of him (Harmon)."
The relationship between the coaches goes beyond the football field, however.
Both Dingess and Harmon's fathers coached together in youth league football and baseball, and Harmon was Dingess' baseball coach at Buffalo-Wayne High School, which was one of three schools to consolidate into Spring Valley in 1998.
"The relationship that we have goes way back," Harmon said. "I coached him when he was a little kid. I know his mom and dad very well and stuff like that. It's a good relationship."
That familiarity and relationship can be seen in each other's programs with similarities abound.
Once Dingess took over Spring Valley's program, he adhered to many of the same principles he had watched Harmon utilize to turn Wayne into a consistently successful program.
Those principles include fundamental blocking and powerful rushing attacks on offense while using physicality on both sides of the football along the offensive and defensive line to win games.
"I think it goes back a lot to where we came from and how we were taught coming up," Dingess said of the Wayne County connections. "We all came up from the same system and under the same tree."
The proof of its effectiveness is in the results.
Harmon is going into his 22nd year as Wayne coach, and he has made the playoffs in 17 of his 21 completed seasons. The veteran coach has three Class AA state championships and four Class AA runner-up finishes to his credit.
Wayne is expected to again make a playoff push and be a contender in Class AA with its entire offensive line and many two-way players back from a team that finished 10-2 last season.
Not to be outdone, Dingess has led Spring Valley to the playoffs in each of his 10 seasons with the Timberwolves, including a state runner-up finish in Class AAA in each of the last two seasons.
Again, Spring Valley is on the short list of teams who are expected to contend for a Class AAA title in 2018, as well.
That level of consistency is not easy to attain, which adds to the respect that the two coaching friends have for one another.
"They've done a great job down there — especially those Buffalo guys — of getting them in contention in the last two or three years," Harmon said.
While success is expected to continue for both sides in the 2018 season, opening up the year by facing off is a different vibe, in part, due to the friendship they have and the desire to see each other continue their success.
"There's nothing more that I want than to be 1-0 after this first week, but it's just different," Dingess said. "You have to take a business mentality to it, but it's tough to play friends sometimes."
On Friday night at the Wolves' Den, two Wayne County powerhouses will meet for the first time in 19 years.
At 7:30 p.m., Wayne and Spring Valley will kick off their respective 2018 seasons with a bang — both in the literal and figurative sense.
For two physical programs with championship aspirations in their respective class, that literal 'bang' is the only way they know how to start a season.
WAYNE AT SPRING VALLEY
WHEN: 7:30 p.m. Friday
RADIO: WCMI 93.3-FM