BUSINESSWIRE PRESS RELEASE
NTT Solmare's Shall we date? Series Attend Anime Expo 2018 in Los Angeles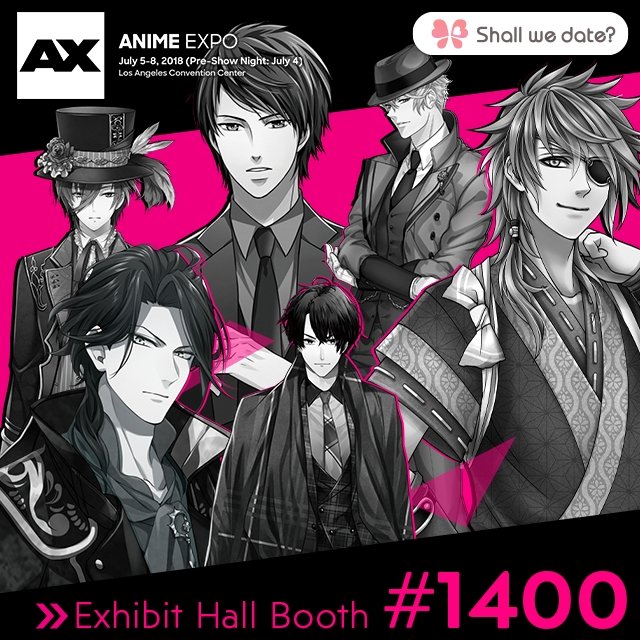 NTT Solmare's Shall we date? Series Attend Anime Expo 2018 in Los Angeles
BUSINESSWIRE PRESS RELEASE
NTT Solmare's Shall we date? Series Attend Anime Expo 2018 in Los Angeles
OSAKA, Japan--(BUSINESS WIRE)--Jun 11, 2018--NTT Solmare Corporation (Headquarters: Osaka, Japan; President: Akira Tomana, hereafter referred as "NTT Solmare") is participating Anime Expo 2018 ( http://anime-expo.org/ ) from July 5 th –July 8 th at Los Angeles Convention Center.
This press release features multimedia. View the full release here: https://www.businesswire.com/news/home/20180611005007/en/
NTT Solmare's Shall we date? Series Attend Anime Expo 2018 in Los Angeles: Let the Sensational Experiences Take Your Breath Away! (Graphic: Business Wire)
Anime Expo 2018
-Venue: Los Angeles Convention Center -Date: July 5 th –July 8 th -Official Website: http://anime-expo.org/ -Booth: Exhibit Hall, #1400 -NTT Solmare Official Event page for AX2018: https://www.facebook.com/events/609860389373988/
Booth Events
• Feel the dynamic sensation! Three activities will be set up for your entertainment. -Gacha: Test your luck and win the victory. Special prizes are available for the winners! -Motion Capture: Get your fight mode on and become the best shuriken fighter! A uniquely designed sense with a cute ninja character as your opponent, instantly takes you to the heated street battle field! -Trick Art: Feel the gravity by falling into the hole to Wonderland! Save a thrilling moment along with marvelous arts eternally in your photo.
• Special Bag: Survey Answered. *Limited to the first 4,000 people who answer the survey.
"Last year, so many people came to our booth, seeing how much they enjoyed it put a big smile on my face. We sincerely thank you for attending. This year, our booth has even more new content for visitors to enjoy. We look forward to seeing you there!,"said Yasuhiro Manabe, Vice President.
Social Media Outlets
Shall we date?: http://shallwedate.jp/ My shelf: http://myshelfapp.com/ Facebook: https://www.facebook.com/ShallWeDate.NTTSolmare
About NTT Solmare Corporation
NTT Solmare is one of the largest digital contents providers in Japan including Digital Book (e-Book) Enterprise, Comic and Game Enterprise. We recently launched the new novel game, My shelf, which achieved 1 million downloads in the first month. "Shall we date?" has gained support from 166 countries, having an average review score of 4.4/5.0 in iTunes App Store as of June 2018. Game popularity keeps increasing with great reputation from customers. NTT Solmare Corporation will continue providing customers with a great satisfaction in creating advanced services from the customers' perspective, holding the corporate mission: "We, NTT Solmare, offer new kinds of surprise and plenty of excitement to our customers, contributing to enrichment of our society."
View source version on businesswire.com:https://www.businesswire.com/news/home/20180611005007/en/
CONTACT: NTT Solmare Corporation
Miyuki Funae / Takuya Adachi, +81-6-6228-8861
Game Department
info@nttsolmare.com
KEYWORD: UNITED STATES ASIA PACIFIC NORTH AMERICA CALIFORNIA JAPAN
INDUSTRY KEYWORD: WOMEN ENTERTAINMENT ELECTRONIC GAMES TECHNOLOGY SOFTWARE EVENTS/CONCERTS MOBILE ENTERTAINMENT CONSUMER
SOURCE: NTT Solmare Corporation
Copyright Business Wire 2018.
PUB: 06/11/2018 08:00 AM/DISC: 06/11/2018 08:01 AM
http://www.businesswire.com/news/home/20180611005007/en