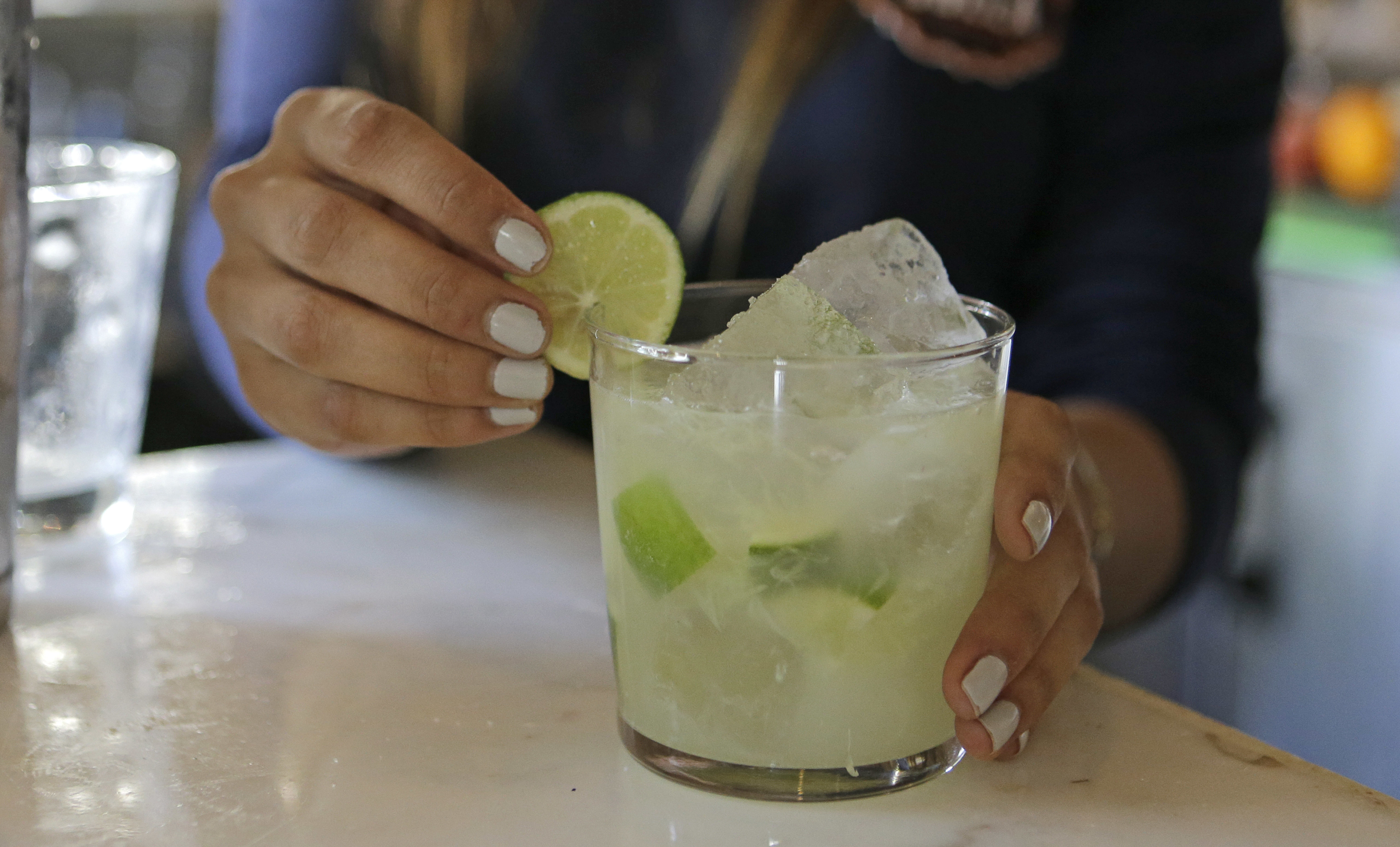 The Associated Press
Jul. 21, 2016
A selection of cocktail recipes for cachaca, a sweet, clear liquor that is a signature flavor of Brazil.
___
A caipirinha at Bulla Gastrobar, a Spanish restaurant and bar in Coral Gables, Florida:
1.5 ounces of cachaca
Half a lime cut into cubes
2 bar spoons of white sugar
In a rocks glass, muddle the lime and sugar until well combined. Add cachaca, then pour into a shaker, add ice and shake vigorously. Pour everything back into original glass so that the contents mix with sugar that was left over in the muddle glass. Once combined, pour into a fresh rocks glass and serve with a lime wedge.
___
Bulla's mixologist, Joel Mesa, has created a daiquiri alternative that replaces rum with cachaca and adds mango to infuse the cocktail with more flavor. "The balance between the sweetness and acidity is just gorgeous, much like this very popular part of Ipanema Beach that this is named after — the closest you can get to there without being there," Mesa said in an email.
Mesa's Daiquiri Posto Nove includes:
A thick slice of mango, muddled
1/2 oz. lemon juice
1 oz. simple syrup
1/2 oz. blackberry brandy
1/2 oz. St. Germain elderflower liqueur
1 1/2 oz. cachaca
Add the ingredients to a shaker and shake well. Pour through a strainer into a cocktail glass and garnish with a lime wheel.
___
Leblon 's cachaca cocktail database includes the Amazon Acai Sangria:
1 oz. Leblon Cachaca
4 oz. white Zinfandel wine
2 oz. white cranberry juice
1 oz. açai syrup
Combine all the ingredients in a mixing glass, then shake them all together with ice. Pour into a highball glass, then top with lemon-lime soda and garnish with blueberries and lemon.
___
Leblon's Amazonia
2 oz. Leblon Cachaca
2 oz. white cranberry juice
1/2 oz. St. Germain elderflower liqueur
1/4 oz. fresh lime juice
4 basil leaves
Champagne, to top
Combine all of the ingredients, except for the Champagne, in a shaker. Shake vigorously with ice and strain over ice into a highball glass. Splash with Champagne and serve.