Johnson sets sights on 1,000 yards receiving, 1,000 rushing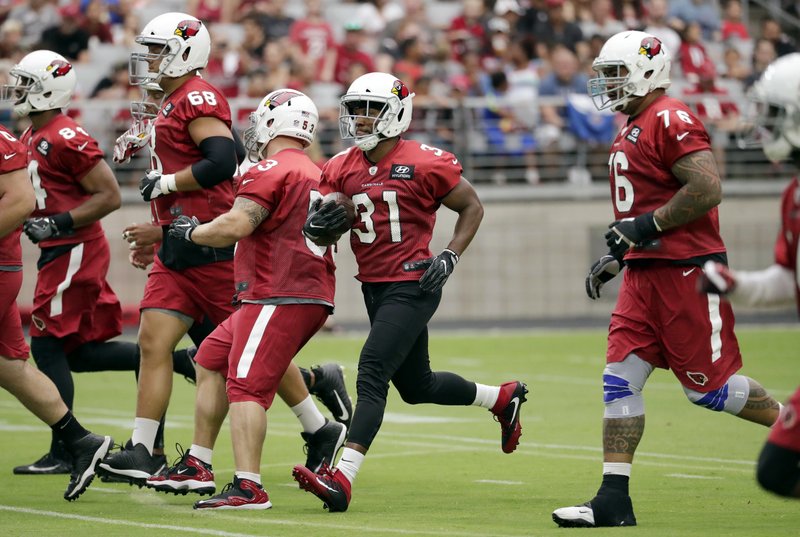 Johnson sets sights on 1,000 yards receiving, 1,000 rushing
Johnson sets sights on 1,000 yards receiving, 1,000 rushing
By BOB BAUM
Jul. 28, 2017
GLENDALE, Arizona (AP) — Entering his third NFL season, David Johnson believes he can accomplish something only two players have done in the game's history.
Rush for 1,000 yards and catch 1,000 yards worth of passes in one season.
"Most definitely a realistic, for-sure goal," he said, "just because I was so close last year and I feel like I have a lot more to improve."
Johnson is mentioned twice on last season's All-Pro team — first team in the new "flex" position, second team at running back.
He led the NFL in yards from scrimmage at 2,118 — 1,239 yards rushing, 879 yards receiving. The numbers undoubtedly would have grown had he not injured a knee early in the season finale against the Rams in Los Angeles.
Roger Craig and Marshall Faulk are the only NFL players to crack the 1,000-1,000 mark in a single season.
"I would have had it last year if I didn't mess up on those routes," Johnson said. "I missed so many routes last year. I probably would have had a thousand, like B.A. (coach Bruce Arians) said, in midseason. I feel like it's a very reachable goal."
Johnson said the only pressure he will feel to reach that 1,000-1,000 goal is from within, and from his coach.
"B.A. definitely puts more pressure on me than any outside person could," Johnson said. "I feel like it's more me trying to put pressure on myself and trying to make B.A. happy."
Johnson has also scored 33 touchdowns in his 32 NFL games so no wonder he is usually the No. 1 pick in fantasy football drafts.
Quarterback Carson Palmer said Johnson justifiably has more confidence.
"You don't know you can do it until you do it and he did it," Palmer said, "and now you continue to look to the future and read and hear about things people are saying about you. I think his confidence is going through the roof because he's done it and now he wants to do more."
___
For more NFL coverage: http://www.pro32.ap.org and http://twitter.com/AP_NFL