BUSINESSWIRE PRESS RELEASE
Analog Devices' Low-Power, Single-Channel 16-Bit DAC Enables High Density Analog Output Modules without De-Rating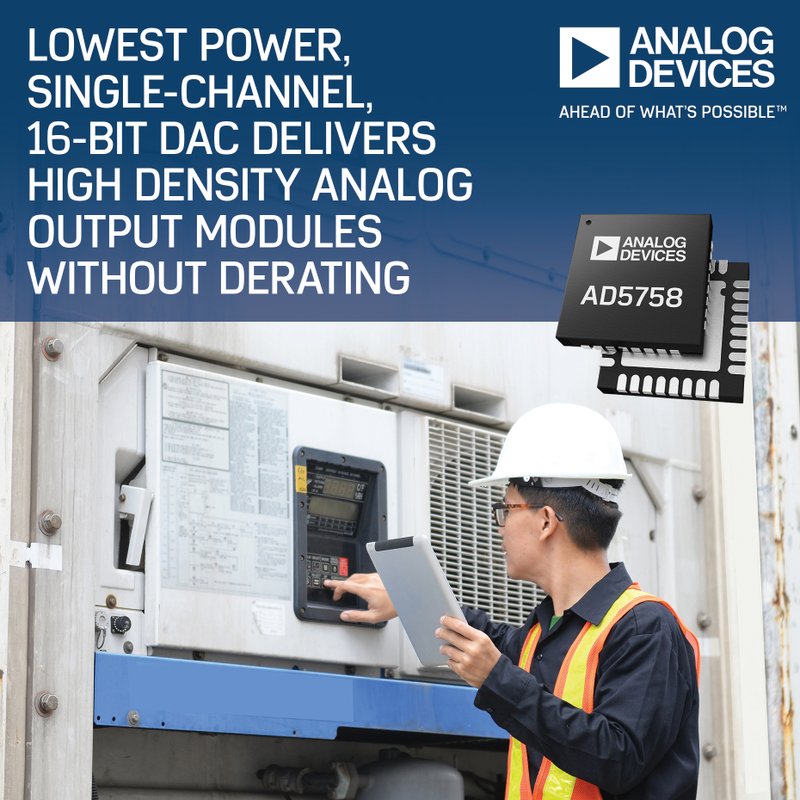 Analog Devices' Low-Power, Single-Channel 16-Bit DAC Enables High Density Analog Output Modules without De-Rating
BUSINESSWIRE PRESS RELEASE
Analog Devices' Low-Power, Single-Channel 16-Bit DAC Enables High Density Analog Output Modules without De-Rating
NORWOOD, Mass.--(BUSINESS WIRE)--May 15, 2018--Analog Devices, Inc. (ADI) today introduced the AD5758 digital-to-analog converter (DAC). It incorporates the company's second-generation Dynamic Power Control (DPC) to enable high density AOUT modules without requiring de-rating—the need to turn off channels due to thermal build up—resulting in lower cost, more compact designs. This single-channel current/voltage DAC with DPC is designed for channel-to-channel isolated industrial applications in factory automation, process automation, and motor control. The AD5758 is ADI's lowest power industrial DAC.
This press release features multimedia. View the full release here: https://www.businesswire.com/news/home/20180515005005/en/
Analog Devices' Low-Power, Single-Channel 16-Bit DAC Enables High Density Analog Output Modules without De-Rating (Photo: Business Wire)
View the product page, download the data sheet and order samples:
http://www.analog.com/AD5758
The AD5758's 5 mm x 5 mm size creates the smallest footprint in the industry. Its robust construction requires fewer external protection components, supporting smaller, lower-cost designs. It is engineered with advanced diagnostics that provide visibility to system performance for higher reliability and planned maintenance schedules. The AD5758 also includes output fault protection circuits to safeguard the DAC in the event of a miswire incident.
AD5758 Product Highlights:
Lowest power industrial DAC Integrated diagnostics for high system reliability Built-in miswire protection 0.05% TUE – 2 times better than industry standard
About Analog Devices Analog Devices is the leading global high-performance analog technology company dedicated to solving the toughest engineering challenges. We enable our customers to interpret the world around us by intelligently bridging the physical and digital with unmatched technologies that sense, measure, power, connect and interpret. Visit http://www.analog.com.
Follow ADI on Twitter at http://www.twitter.com/ADI_News
Read and subscribe to Analog Dialogue, ADI's monthly technical journal, at: http://www.analog.com/analog-dialogue.html
View source version on businesswire.com:https://www.businesswire.com/news/home/20180515005005/en/
CONTACT: Analog Devices, Inc.
Linda Kincaid
linda.kincaid@analog.com
KEYWORD: UNITED STATES NORTH AMERICA MASSACHUSETTS
INDUSTRY KEYWORD: TECHNOLOGY HARDWARE SEMICONDUCTOR
SOURCE: Analog Devices, Inc.
Copyright Business Wire 2018.
PUB: 05/15/2018 08:00 AM/DISC: 05/15/2018 08:01 AM
http://www.businesswire.com/news/home/20180515005005/en