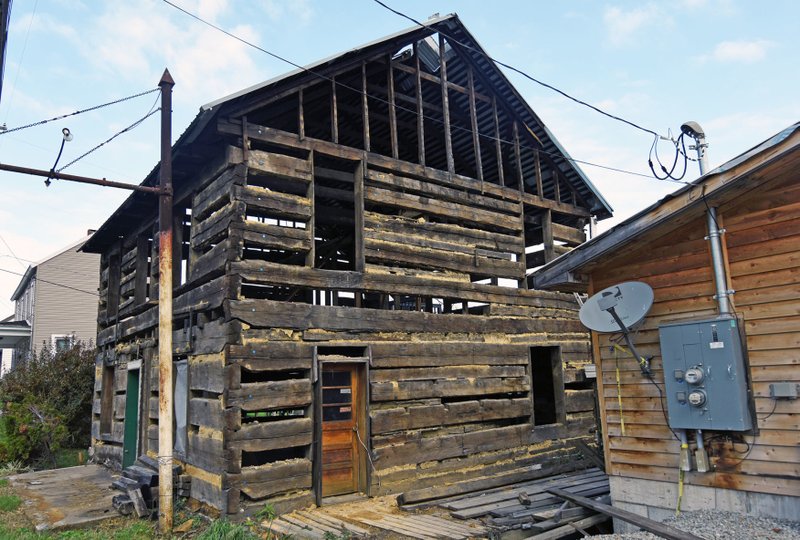 By RICK SHRUM, (Washington) Observer-Reporter
Dec. 15, 2017
BEALLSVILLE, Pa. (AP) — His handiwork already enhancing the scenery of Scenery Hill, Brian Allen eagerly embraced another construction project.
There was a two-story house on Route 40 in Beallsville, on the rise leading to Nemacolin Country Club, that intrigued him. It was a tastefully appointed structure with layers of siding, but the exterior wasn't what roused Allen's curiosity. He was seeking a log house where his family could live and heard this could be the place.
"You couldn't tell it was a cabin," said Allen, owner of a 28-acre farm in Scenery Hill. The owner of the log building, Gary Harvey, knew the structure was initially a cabin, at least 200 years old. Allen was interested in buying, Harvey agreed to sell and they arrived at a tentative price - with the final figure to be determined after Allen stripped down everything to the wood, revealing its overall condition.
That happened Nov. 11, Veterans Day. But Allen isn't refurbishing the place or moving into it at the current site.
The former field biologist is dissecting the cabin, log by log, and is determined to give it new life on his expanse in North Bethlehem Township. Allen plans to move all of the wood to his property within a month before beginning the rebuild, near a forested area on his land.
"I want birds and deer at my front porch, not tanker trucks," Allen said.
He, wife Kathy and their three young sons are residing in an 1890s-era home he is restoring. "The house sits too close to Route 40 - about 20 feet," said Brian, father of Liam, 10, Elias, 8, and Garrett, 6.
The parents' plans are to sell the current home and live on the first floor of the relocated cabin, with the boys each having their own room above them. Brian hopes they'll be living there in about a year and a half.
"We're looking to leave the corporate world and be in a more cost-efficient life," said Allen, whose spouse is a coding chemist in Pittsburgh.
The current stripped-down structure is conspicuous along National Pike. It is a skeleton entirely made of wood. Allen described the structure as "extremely large," 28 feet square with two stories.
During a walk-through last week, Allen pointed out most of the logs are white oak, with some chestnut. He said about one-third have rotted or fallen into disrepair and will be replaced by a combination of ash and oak.
Roman numerals are carved into several pieces, identifying the year the building was previously relocated - 1814. Harvey, who owns the building next door and will continue to own the property on which the cabin currently sits, does not know the definite history of the log structure, but said it was "one of the first homes on the east side of Beallsville." He guesstimates it is "probably a 1700s cabin that's been moved twice."
He said the Ullom family lived in the cabin around the 1940s or '50s and ran a gas station and restaurant. Harvey also resides in Scenery Hill, where he operates Harvey Services, a construction business.
That log house isn't the only endeavor Allen is pursuing. He is an affable guy with an insatiable work ethic and a long, black "playoff beard" that would be the envy of any National Hockey League player. The impression is he doesn't sleep much.
Allen, who grew up in Lone Pine, was a field biologist for about 15 years who is now a hydroponic farmer and much more. He also works with the Greater Washington County Food Bank, and is a baker of bread and cookies, daytime overseer of the kids and a renovator of buildings. Allen's main project is the dual redo of the 190-year-old Beck-Ringland Tavern and adjacent old hardware store on National Pike, where Scenery Hill's once-celebrated business district crackled.
He is building a bakery and a brewery inside the former tavern, which he hopes to have open a year from now. There also will be a kitchen that will serve that facility and the venue he is erecting next door for concerts and other events.
Allen isn't the only eager entrepreneur in town. Others are planning to launch or ramp up businesses.
"This is the gateway of the Laurel Highlands," he said. "In the next year or two, Scenery Hill will have a revival."
So should a log home that has been sitting in Beallsville for two centuries.
___
Online:
http://bit.ly/2AqrQRc
___
Information from: Observer-Reporter, http://www.observer-reporter.com