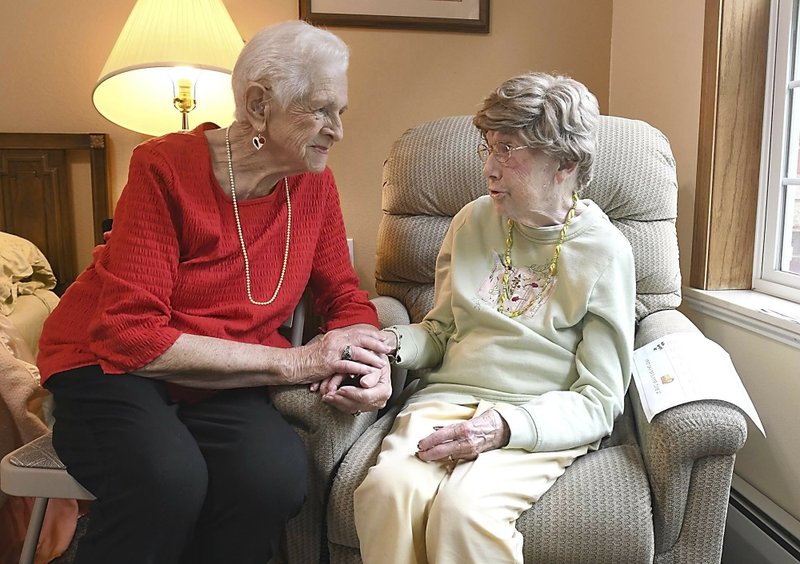 By DAN GREENWOOD
Jul. 23, 2018
MANKATO, Minn. (AP) — Over the past two decades, Gerri Horvat has seen it all and met some unique characters.
The Mankato native began volunteering as a senior companion when she retired from a St. Peter electronics company at age 65. Now 85, she is wrapping up 20 years of service as a volunteer for Senior Corps, a program sponsored by Lutheran Social Service.
The program has its roots in former President Lyndon Johnson's war on poverty. It has since evolved into a volunteer position for seniors who provide companionship and assistance to elderly residents.
"What they do is take other seniors to doctor's appointments, maybe out for pie and coffee, maybe grocery shopping," said Gail Sumerfelt, program coordinator for the Senior Companion Program. "It really depends on the client and the clients' needs."
Sumerfelt coordinates 100 senior companions in southern Minnesota and a dozen in Mankato. She said Horvat spent the past two decades taking out anywhere from six to nine people a week, often for a period of several years.
"She has seen just about everything and has dealt with just about every situation you can think of through serving people within the Mankato community," Sumerfelt told the Mankato Free Press .
Horvat retired from her 30-year career in June 1998. Throughout that summer she had all kinds of activities that kept her busy, but then the fall came and those activities began to wind down. She heard about the Senior Companion Program through her daughter and decided to give it a try with one woman named Gladys.
"The first one I got, I had her for 16 years," Horvat said. "She was such a lovely person and it was the reason I stayed with the program. She became part of my family and I part of hers."
Gladys was diagnosed with macular degeneration, an incurable disease that eventually causes blindness. She had been living alone near the South Dakota border but moved to Mankato to be closer to family. Because she could no longer drive, Horvat took her shopping, for lunch and to appointments. Gladys liked to give back, too. She loved to bake and would volunteer with Horvat at the VINE Community Center.
"We did volunteer work for VINE and we did birthday cards," Horvat said. "She couldn't see but she could put on the labels and do other little things. She loved doing this when she was out with other people."
Eventually the disease progressed until she couldn't see or hear. In the end, there was nothing for her to look forward to anymore, Horvat recalled sadly. But years later she still treasures the 16-year friendship she had with Gladys.
"She said she was so thankful that God brought me into her life," she said. "It really touched my heart, and I understand that; she was so alone and she had somebody she really connected to."
Even though she isn't actively volunteering as a senior companion, Horvat still makes an effort to visit her former clients. Lois Berg is one of them. The 101-year-old woman lives at Oak Terrace Assisted Living in North Mankato.
On a rainy Tuesday morning, Berg lights up with a smile when Horvat walks into her small apartment. The two met after Berg's husband died six years ago. Her son, who comes for regular visits and takes her on outings, reached out to Lutheran Social Service, who connected Horvat with his mother. The two have been friends ever since.
Berg, who had a career as a teacher, jokes about attending the St. Cloud Teacher's College as a young adult, the same college her own mother attended.
"When she went there this man was bringing his cow to the college to pay for his tuition," Berg smiles.
"That's what they call the barter system," jokes Horvat.
The two of them break out in laughter.
Berg gets plenty of company these days. The mayor just came to see her. She gets visits from her son and he takes her out to dinner. Horvat said that even though she still visits from time to time, Berg has a new senior companion.
Looking back, Horvat didn't expect she would volunteer as a senior companion for two decades. But she said she loves getting out and talking to people, and she's discovered over the years just how widespread the need has become as more seniors are living into their 90s or even 100s.
"I've been so surprised how many people are by themselves. If they do have children they live in say, Oregon or New York or someplace. That totally surprised me. I knew there were people by themselves, but I didn't realize how many are struggling."
In any given week, there were some clients that solely relied on Horvat for assistance and companionship. Early on she vividly recalls a woman she had named Amanda, who lived alone in a large house.
"It was a big house for one person. She had struggles; the water was coming down through the ceiling on the porch and things like this. She had one daughter, but the daughter wasn't really involved in her life that much.
"She'd call me and she'd say 'emergency' and then hang up the phone," Horvat laughed. "I never knew if the cat was out of cat food or it was a big emergency. So it got me in the car going down to her house on the other end of town to see what the emergency was."
Sometimes Amanda wouldn't say anything on the answering machine, but Horvat said when Amanda hung up the phone it would make a "clunkety clunk" sound. That's how she knew it was Amanda even if she didn't leave a message.
"Just a day or so before she died they took her to the hospital. It was on Thanksgiving night. I came home and on the answering machine it said somebody called, so I picked it up and I hear 'clunkety clunk,' and I thought, 'It's Amanda.' The next day she was gone. She was a handful but I really loved that old lady."
___
Information from: The Free Press, http://www.mankatofreepress.com