The Latest: Kansas independent Orman's aide expects lawsuit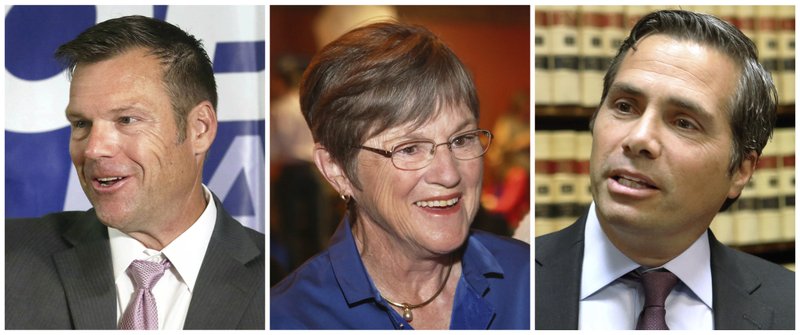 The Latest: Kansas independent Orman's aide expects lawsuit
The Latest: Kansas independent Orman's aide expects lawsuit
TOPEKA, Kan. (AP) — The Latest on businessman Greg Orman's independent bid for Kansas governor (all times local):
5 p.m.
Independent candidate Greg Orman's campaign manager says he expects Democrats to file a lawsuit to remove Orman from the ballot in the Kansas governor's race.
Campaign manager Tim Phillips said Thursday he would be shocked if a lawsuit wasn't filed after a state board rejected most claims in an objection to Orman's candidacy filed by a Democratic legislative leader's chief of staff.
The board's decision Thursday means Orman remains on the ballot.
Attorney Pedro Irigonegary represented the legislative aide and said a lawsuit is possible but a decision has not been made.
The objection questioned how Orman's campaign collected at least 4,000 signatures on petitions for his spot on the Nov. 6 ballot. He needed 5,000 from registered voters, and the secretary of state's office validated more than 7,700.
___
3:55 p.m.
A state board in Kansas is keeping independent candidate Greg Orman on the ballot in the governor's race.
The State Objections Board on Thursday rejected a challenge filed by a Democratic legislative leader's aide.
The Democrat had argued that questions about how Orman gathered the signatures of registered voters were grave enough to warrant removing him from the Nov. 6 ballot.
Orman needed the signatures of 5,000 registered voters, and counties validated about 7,700. The objection raised questions about how at least 4,000 were collected.
The board was made up of representatives of the secretary of state, the attorney general and the lieutenant governor. All are Republicans and Secretary of State Kris Kobach is the GOP nominee for governor.
Many Democrats fear Orman's bid will help Kobach.
___
6:30 a.m.
Democrats horrified by the thought that provocative conservative Kris Kobach could be Kansas' next governor are attacking a Kansas City-area businessman whose independent candidacy could thwart their ambitions and help elect the Republican.
Their reaction to Greg Orman, the 49-year-old founder of a private equity fund, contrasts sharply with Democrats' embrace of Orman during a U.S. Senate run in 2014 that garnered national attention. This time, Democrats have launched a legal challenge aimed at removing Orman from the November ballot, and a state board plans to consider it Thursday.
Orman expects to tap discontent with the two major parties to become his red state's first independent governor, and supporters contend political scientists and partisan activists greatly underestimate voters' disgust with the hyper-partisanship in U.S. politics. He's also willing to spend his own funds, dropping $650,000 in July, a large sum in low-cost Kansas.