Elected leaders, others remember longtime New Mexico senator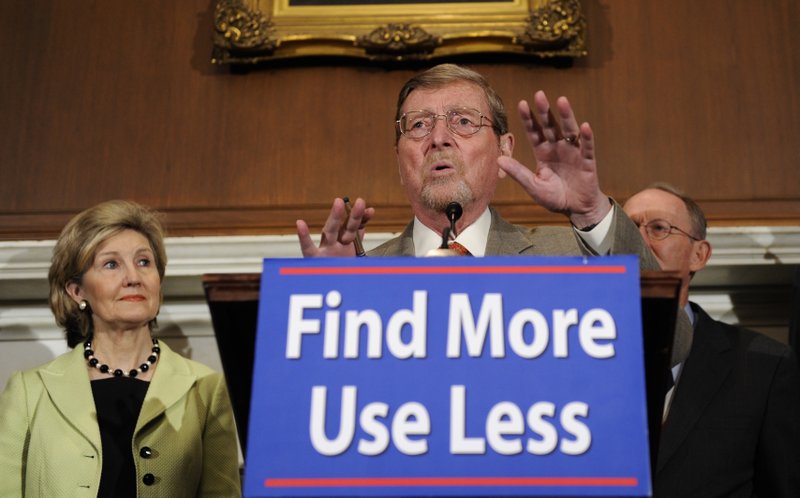 Elected leaders, others remember longtime New Mexico senator
Elected leaders, others remember longtime New Mexico senator
ALBUQUERQUE, N.M. (AP) — From the halls of Congress to the many corners of New Mexico, elected leaders and others are remembering former U.S. Sen. Pete Domenici. The longest serving U.S. senator in New Mexico's history, Domenici died Wednesday at an Albuquerque hospital following a setback stemming from a recent abdominal surgery. He was 85.
___
"This is a sad day for all New Mexicans. Senator Domenici was a dedicated statesman who always put New Mexico first. His devotion to our state was evident throughout his lengthy career. He tirelessly advocated for a better future for all New Mexico, from our labs and military bases to infrastructure and our innovation centers. Senator Domenici was also a champion of higher education, pioneering the Domenici Public Policy Conference which, even today, brings national leaders in government and innovation to New Mexico to help guide future generations of policymakers." -- New Mexico Gov. Susana Martinez.
___
"Laura and I are saddened by the death of our good friend, Senator Pete Domenici. He loved New Mexico and represented his constituents well in the Senate — an institution for which he had great respect, and in which he earned great respect. We will miss him, and we send our heartfelt sympathies and best wishes to Nancy and Pete's loved ones." -- former President George W. Bush.
___
"I am saddened by the passing of Senator Pete Domenici, who served the people of New Mexico honorably for 36 years. Though we often disagreed politically, I always respected him for his deep convictions and his belief that compromise is essential for a functioning democracy. He was one of the Senate's great mental health advocates, and I'll always be proud to have signed the Mental Health Parity Act into law, which required the same coverage limits in health insurance policies for mental and physical illness, and for which he fought so passionately. My thoughts and prayers are with his wife, Nancy, and his entire family." -- former President Bill Clinton.
____
"My first job on Capitol Hill was in the Senate, back when Pete Domenici was budget chairman. He was this larger-than-life figure who clearly relished the chance to serve and get things done. I learned so much from him, not just on budget issues but also how to be truly committed to your craft. He remains a great inspiration to me. The whole House is thinking of Senator Domenici's family today." -- U.S. House Speaker Paul Ryan.
___
"Pete left a profound mark on the nation's energy policy, not only as the chairman and ranking member of this committee, but also of the Energy and Water Development Appropriations Subcommittee. He was a strong supporter of our national laboratories, energy research and development, alternative energy sources like solar and wind, and nuclear nonproliferation." -- U.S. Sen. Maria Cantwell, ranking member of the Senate Energy and Natural Resources Committee.
___
"Senator Domenici is a legend in New Mexico politics, and though he will be sorely missed, his impact will be felt in the state - and the nation - for generations to come. While we sat on different sides of the political aisle, I admired Pete's dedication to the well-being of all of New Mexico." -- U.S. Sen. Tom Udall, D-New Mexico.
___
"I am grateful for the example Senator Domenici set on how to advance important and complex policy goals in Washington with civility. Republicans and Democrats alike who worked with him on issues like the budget, energy, defense and behavioral health still point to his dedication to improving the lives of those he served through bipartisan cooperation and compromise." -- U.S. Sen. Martin Heinrich, D-New Mexico.
___
"He didn't hesitate to put every single New Mexican before himself and fought tirelessly to make sure opportunities for a better life were available to all. He was a titan - a fighter - and his work for the wellness and prosperity of New Mexico will forever be remembered." -- U.S. Rep. Steve Pearce, R-New Mexico.
___
"As we reflect on Senator Domenici's incredible legacy, we should also recall his willingness to work with Democrats and Republicans alike to improve the condition of our state and nation. Our country would be a better place if more public officials took Senator Domenici's approach to governing. We have lost a legendary statesman today." -- New Mexico House Minority Leader Rep. Nate Gentry, R-Albuquerque.
___
"His commitment and determination to ensuring a strong laboratory into the future is evidenced by his unwavering support for bringing cutting-edge supercomputing facilities to the laboratory and ensuring the laboratory possessed unsurpassed technical capabilities to counter threats to this country from abroad. Senator Domenici was also a passionate believer in the benefits of Big Science to our society, referring to our national laboratories as 'crown jewels.' He was instrumental in making use of our supercomputing for projects, beyond national security, such as mapping the human genome." -- Los Alamos National Laboratory Director Charlie McMillan
___
"As the number one champion of civil nuclear power and as a man of faith, Pete knew that we could use uranium to benefit hundreds of millions of people or we could use it to destroy God's creation. Suffice it to say, Pete was an indispensable leader in the post-Cold War effort to protect the American people. No better man, no better friend." -- former U.S. Sen. Sam Nunn, co-chair of the Nuclear Threat Initiative.
___
"Today we mourn the loss of a fellow New Mexican, a patriot, and a devoted statesman. Sen. Domenici loved New Mexico and genuinely cared for the welfare of each and every citizen. He was a bold and fearless leader and served us and the nation with dignity, compassion, and benevolence." -- New Mexico Land Commissioner Aubrey Dunn.
___
"Senator Domenici was a tireless champion for mental health parity, an issue near and dear to my heart personally, and to that of everyone at the HSC (Health Sciences Center). He worked in a bipartisan manner to ensure that those struggling with mental illness had access to treatment - and to insurance coverage for that treatment. The effect of this change on the lives of the people we serve, and on their communities, is immeasurable." -- Paul Roth, dean of the University of New Mexico School of Medicine and CEO of the UNM Health System.
____
"On behalf of the 23rd Navajo Nation Council, I offer my heartfelt condolences to the family and loved ones of the Honorable Pete Domenici, who was known as a selfless person who helped many people within the state of New Mexico and our country in many ways. We will honor and remember his tremendous service and advocacy for the Navajo people as a U.S. Senator." -- Navajo Nation Council Speaker LoRenzo Bates.