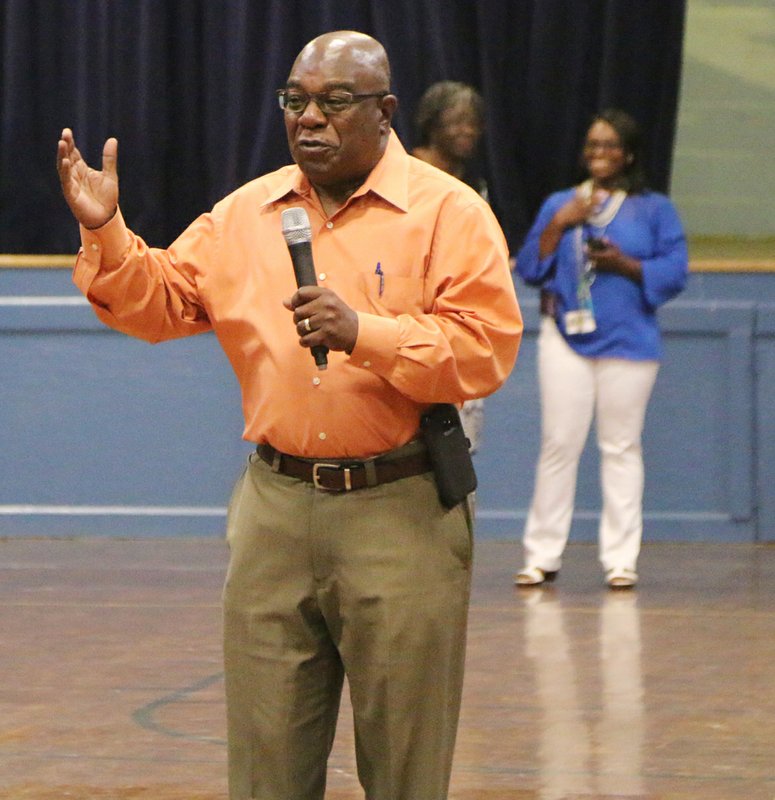 LAKE CITY, S.C. – Community leaders greeted students Monday morning at the Dr. Ronald E. McNair School of Digital Communications and Leadership for the first day of school. The school kicked off the semester with a First Day of Leaders event.
Community leaders representing several occupations greeted students when they arrived at school.
"Talking with the guidance counselor and my career development facilitator, we came up with this brilliant idea to get our community leaders to come in," said Dr. Ronald E. McNair School of Digital Communications and Leadership Principal Deitra Johnson. "We were so thrilled to have so many, because we want our students to know that, even though they're here, we want to build them to become a leader."
Representatives of the Williamsburg and Florence county sheriff's offices, the Lake City Police Department and local government were on hand Monday to greet students at the bus and car riders' drop-off areas and in the front of the school. Professionals from local salons and medical offices also attended the First Day of Leaders event.
"And we wanted to not limit it to political leaders or school leaders, because we wanted our students to know you can be a leader just by working in a salon," Johnson said. "You can be a leader just by being a waitress. So we wanted to let them know you can be a leader no matter where you are and no matter what your occupation is."
Florence County School District Three board member Paula Morris was one of several people who greeted children Monday. She and others were given an opportunity to speak to all students before they headed to class. In her brief address, Morris reminded students that nothing can change until their minds change. And a mind change is needed to fulfill one's destiny and purpose, she said.
"Don't try to change somebody else, and don't let anybody change you," Morris said. "It's OK to be you. There's only one you. And there will never be another you. So you've got to know who you are in order to fulfill your destiny and your purpose."
Lake City Mayor Lovith Anderson Jr. said community leaders visited the school Monday because they love the students. He told students that they also have to love themselves. And loving themselves consists of using time wisely, studying hard, being determined, resting and staying focused, he said.
"But what I want you all to know is that there are people that care about you and made sacrifices for you to be here," Anderson said. "You must put some skin in the game yourself."
Johnson said the school has implemented the middle school component of The Leader in Me model. Posted in the hallways are seven habits that will guide students in everything they do.
The school is not done with leadership activities. More will be completed this year during advisor-advisee periods.