Cachorra de mapache camina con ayuda de una silla de ruedas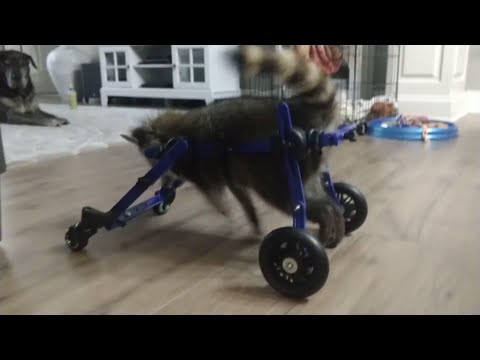 LITTLE ROCK, Arkansas, EE.UU. (AP) — Una cachorra de mapache de Arkansas que padece una enfermedad cerebral que dificulta su movilidad volvió a caminar con la ayuda de una silla de ruedas.
La compañía Walkin' Pets, que fabrica las sillas de ruedas para animales, dijo el lunes que se desconoce el origen de la enfermedad de la mapache Vittles, la cual le impide mantener equilibrio y sostenerse.
Susan Curtis, especialista de rehabilitación de vida silvestre que ayuda a los mapaches y murciélagos del estado, encontró a Vittles cuando tenía ocho semanas de edad, agregó la empresa.
La directora del proyecto de Walkin' Pets, Jennifer Pratt, dijo que la silla de ruedas se ajustará a medida que Vittles vaya creciendo. La compañía indicó que la mapache puede usarla para mejorar su equilibrio y estabilidad para poder caminar por cuenta propia.
La compañía dijo que es poco probable que el animal se recupere por completo, de acuerdo con reportes del diario The Arkansas Democrat-Gazette. Sin embargo, una cirugía temprana genera esperanza.
___
Información del diario The Arkansas Democrat-Gazette: http://www.arkansasonline.com
All contents © copyright 2019 The Associated Press.
All rights reserved.