Scott, DeSantis headline kickoff rally for Florida GOP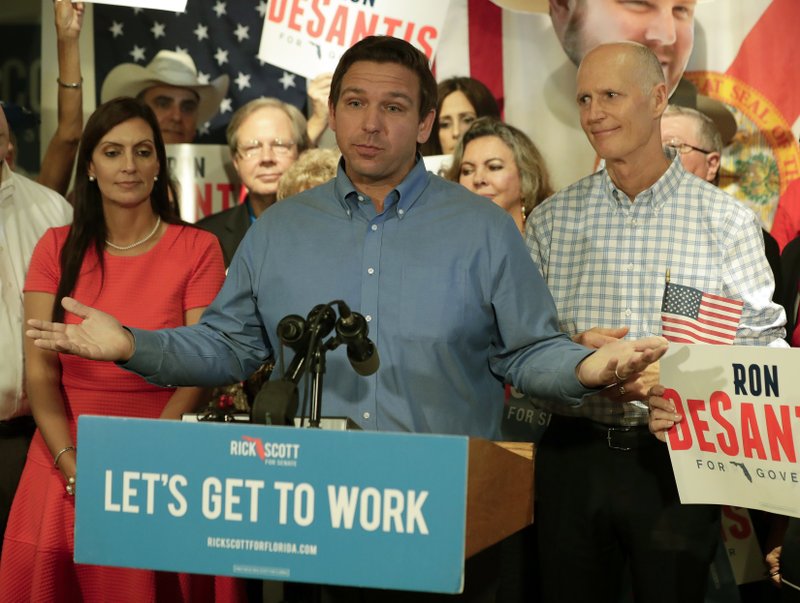 Scott, DeSantis headline kickoff rally for Florida GOP
Scott, DeSantis headline kickoff rally for Florida GOP
By MIKE SCHNEIDER
Sep. 06, 2018
ORLANDO, Fla. (AP) — Florida Republicans said Thursday they are a united party despite several hard-fought primary races, and they portrayed their Democratic opponents in November's election as left-wing spenders who will hike taxes on Floridians.
"If the Democrats get their way, not just in Florida, but across the nation, they will push radical, left-wing policies that led to what we are seeing in places like Venezuela and Cuba," Gov. Rick Scott told scores of GOP supporters at an election-kickoff rally.
Scott, who is running for U.S. Senate, was joined at a motor-themed restaurant in downtown Orlando by Republican gubernatorial candidate Ron DeSantis and his newly picked running mate, state Rep. Jeanette Nunez. Also joining them were the incumbent members of Florida's cabinet; and the GOP candidates for Florida's attorney general, agriculture commissioner and chief financial officer. Later in the day, Vice President Mike Pence held fundraising receptions for Scott in Orlando and The Villages, the retirement community northwest of Orlando.
Florida Democratic Party chair Terrie Rizzo fired back at the GOP rally, claiming all that Florida Republicans cared about was supporting President Donald Trump. DeSantis won the GOP nomination last week with Trump's endorsement, and he's been a constant defender of the president on Fox News.
"With extremists Rick Scott and Ron DeSantis leading their ticket, Floridians can expect more of the same — the gutting of environmental protections and public schools, laws that are handwritten by the NRA, and higher health care premiums," Rizzo said in a statement. "Floridians can't afford another 20 years of failed Republican policies and Republican lawmakers will be held accountable on November 6th."
Scott and DeSantis are the GOP candidates in two of the most anticipated races of the midterm election. Facing term limits as governor, Scott is trying to unseat Democratic U.S. Sen. Bill Nelson.
DeSantis is facing Democratic gubernatorial nominee Andrew Gillum, who is vying to become Florida's first African-American governor. Both candidates picked running mates on Thursday with Gillum choosing a rival from his Democratic primary race, Orlando-area businessman, Chris King.
"The differences are very clear," Nunez told reporters after the rally. "What I stand for, what Ron stands for, is what Floridians stand for and I'm eager to make those differences even clearer with my newfound opponent."
Introducing himself at the rally, DeSantis described himself, tongue in cheek, as "the capitalist candidate for governor of the state of Florida." He promised to keep Florida on its current path of comparatively low unemployment, warned his opponent would raise taxes and said he would be "the most pro-Israel governor in the country."
"I think Florida is on the ascent right now. We need to keep that going and accelerate the ascent," DeSantis said. "We don't want to destroy that ascent."