The Latest: Funeral services set for former US senator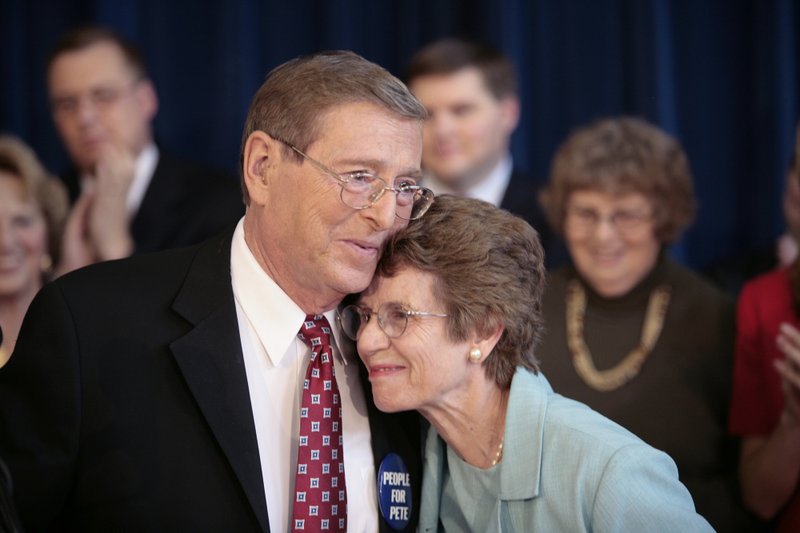 The Latest: Funeral services set for former US senator
The Latest: Funeral services set for former US senator
ALBUQUERQUE, N.M. (AP) — The Latest on the death of former U.S. Sen. Pete Domenici of New Mexico (all times local):
8:15 p.m.
Memorial services are scheduled this weekend for former U.S. Sen. Pete Domenici.
New Mexico's longest serving senator, Domenici died Wednesday morning of complications from abdominal surgery.
A public celebration of the longtime lawmaker's life will be held at Isotopes Stadium in Albuquerque on Saturday at 3 p.m.
The family also has arranged for a rosary Friday evening at Our Lady of Fatima in Albuquerque. A funeral service will follow Saturday morning at the Catholic church.
Domenici's family said in a statement Wednesday that while they are mourning his death, they are also celebrating his life and many achievements. They expressed their gratitude to his supporters and all who have offered condolences.
The family said as much as Domenici did during his six terms in the Senate, he always felt there was more he could do and he was always ready to get to work.
___
2:30 p.m.
Attendees of a policy conference named after former U.S. Sen. Pete Domenici are mourning the passing of the Republican lawmaker.
Participants of the Domenici Public Policy Conference in Las Cruces, New Mexico, paused Wednesday for a moment of silence following news of Domenici's death.
Kevin Prieto, the student body leader at New Mexico State University, read a prepared statement from Domenici during the opening ceremonies.
Domenici wrote he was recovering from surgery and would try to follow the conference online.
"You know if I was there in person, I'd be asking questions," Domenici wrote.
He finished, "Once again, I'm sorry I'm not there with you."
Domenici died Wednesday. He was 85.
___
11:40 a.m.
Republican Gov. Susana Martinez says former U.S. Sen. Pete Domenici was a statesman who always put New Mexico first.
The two-term governor called it a sad day for all New Mexicans as word spread that the 85-year-old Domenici had died at an Albuquerque hospital Wednesday morning.
Martinez called Domenici a champion for higher education, noting that a public policy conference named for him began Wednesday in Las Cruces.
Other state lawmakers pointed to Domenici's work on mental health, while officials at Los Alamos National Laboratory remembered him as a passionate believer in the benefits of big science.
Lab director Charlie McMillan said Domenici was instrumental making use of supercomputing for national security and projects such as mapping the human genome.
___
11:15 a.m.
Former New Mexico Gov. Bill Richardson is praising deceased former U.S. Sen. Pete Domenici as a decent man who never forgot his roots.
Richardson served in Congress, as a U.S. Cabinet secretary and as New Mexico's governor during Domenici's heyday as a senator. He described Domenici on Wednesday as a political giant who loved New Mexico.
In a statement, Richardson highlighted Domenici's contributions to Los Alamos National Laboratory, energy policy, funding for state government and environmental protection efforts.
He says that Domenici "never forgot his roots, his family and his fellow New Mexicans."
___
11 a.m.
New Mexico State Land Commissioner Aubrey Dunn remembers former U.S. Sen. Pete Domenici as a politician who genuinely cared about the state's residents and used his influence in Washington to create jobs at home.
Responding to the senator's death on Wednesday, Dunn says his father and state lawmaker Aubrey Lyle Dunn Sr. was friends with Domenici even though the two were "from different ends of the political spectrum."
He attributed Domenici's influence and staying power during six terms in the Senate to high moral character.
Domenici did acknowledged in 2013 that he had a son out of wedlock in the 1970s, but Dunn says Domenici is held in higher regard that many of today's politicians.
Domenici served in recent months as an adviser to Dunn's agency.
___
10:50 a.m.
New Mexico lawmakers are remembering former U.S. Sen. Pete Domenici as someone who was known for putting politics aside and building relationships on both sides of the aisle.
Domenici died Wednesday at an Albuquerque hospital. He was 85.
Members of the state legislative Courts, Corrections and Justice Committee held a moment of silence for Domenici during their meeting.
The committee recalled stories about the longtime lawmaker, saying he was admired for his work to protect New Mexico's military bases and national laboratories.
Republican state Rep. Sarah Maestas Barnes of Albuquerque said New Mexico is in a much better place thanks to Domenici's work. She says in a hyperpartisan world, elected officials can learn a lesson from what Domenici and his colleagues were able to accomplish by working together.
___
9:39 a.m.
Former New Mexico Sen. Pete V. Domenici, a Republican who became a power broker in the Senate for his work on the federal budget and energy policy over more than 30 years, died Wednesday. He was 85.
Domenici died at the University of New Mexico Hospital in Albuquerque. His family said the senator had undergone abdominal surgery in recent weeks.
Domenici declined to seek a seventh Senate term in 2008, saying he had been diagnosed with an incurable brain disorder. He was in the Senate for more than 35 years, becoming New Mexico's longest serving senator.
The Albuquerque-born son of Italian immigrants carried a consistent message of fiscal restraint from his first term in 1972 until leaving office in early 2009.
He even refused once to buckle to President Reagan, who wanted him to delay the budget process.