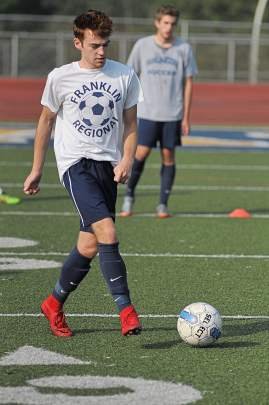 The Franklin Regional boys soccer team was a minute and 20 seconds away from making it to the WPIAL semifinals - a feat the program had never accomplished - before the wheels fell off and a once promising season was over.
The Panthers led Canon-McMillan, 2-1, late in the Class 4A quarterfinals last season when the Big Macs scored to tie the game and eventually won in a shootout.
Coach Rand Hudson said the sting of last season's ending is something the returning players carried with them into camp this summer.
"Going into that playoffs, we had hopes of making it pretty far," he said. "We had high hopes since we only lost twice in the regular season, so that definitely left a bad taste for the guys we had coming back this year."
Franklin Regional lost three key graduates in captains Jake Trapanotto (Seton Hill) and Shane Popko (Navy) and Dom DiFalco. Hudson said replacing those individual players will not be easy, but as a group, the Panthers will be ready.
"Every player is different and I don't expect them to be those identical players, but in their own way to replace," he said. "I have all the confidence we can get the job done because so far this team seems very determined and focused.
"We're determined to go further and do more, knowing we have a bull's-eye dropping from Quad-A to Triple-A."
Hudson will rely heavily on his returning all-section goalie Jeremy Lucas, and his strong midfield led by senior Austin Kranick, junior Nolan Scholze and sophomore Isaac Gamwo.
Hudson's midfield will also have the services of his son, junior Connor, who missed most of last season with a torn ACL, along with Justin LeDonne and Zack Snider. All three were contributors last season.
"To me, our midfielders will dictate what we do," Hudson said. "If you want to be successful, you have to control things and pressure the opposing defense."
In the defensive zone, Matt Kimmich and Jake Shulock will return on the ends and quarterback a group that will see a younger crop receiving playing time.
"Jake (Trapanotto) is one of those players that is irreplaceable. ... Players like him don't come along very often," Kimmich said. "The older guys are going to have to step up and communicate and bring that leadership Jake brought."
Hudson said a playoff berth is expected ... a sentiment that didn't always exist. He said his team embraces the challenges, but knows there is a regular-season schedule ahead that will require the Panthers to be at their best in the fall.
"Having these expectations is a great thing, but it's not a given," he said. "We want to push further, and this group understands that.
"Our mindset is what do we have to do to move it to that level where we want to be every year and compete for WPIAL championships."
A calm sense of confidence, but not overconfidence, will prove key if the Panthers hope to have another shot at a deep playoff run in 2018.