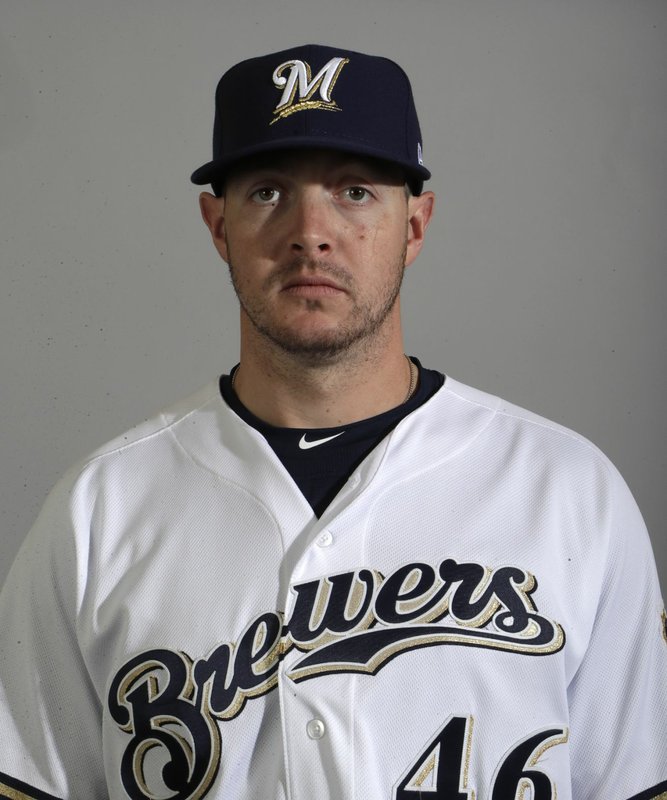 MILWAUKEE — Relief pitcher Corey Knebel is headed out West, hoping to salvage his season and, possibly, energize the Milwaukee Brewers' playoff hopes.
The Brewers optioned the former closer to Class AAA Colorado Springs last week after multiple methods failed to get Knebel back to his All-Star form of a year ago.
"This isn't really a demotion, it's a break," general manager David Stearns said.
The right-hander agreed with the decision and welcomes the opportunity.
"It's a good thing," Knebel said. "To be able to take some time off, work with (Brewers pitching coach Derek Johnson) and (bullpen coach) Lee (Tunnell), that's the only way to really do it."
Knebel's biggest weapon has long been a devastating curveball that, paired with a fastball topping out in the high 90s, flummoxed hitters last season as he struck out 126 batters in 76 innings while posting a 1.78 ERA with 39 saves.
Knebel's fastball velocity has dipped slightly this season, from 97.8 to 96.8 mph and he's thrown it just less than 2 percent more often than he did in 2017.
"You look at my numbers and a lot of the hits are soft hits, but the majority of my hard-hit balls are hit hard," Knebel said. "I gave up homers last year (six, compared to seven in 2018) but everything else ... it's not sky-high."
He's not wrong. Knebel's 12.69 strikeout-to-walk ratio is a slight dip from the 14.92 he posted a year ago and his 4.38 walks per nine innings are down from 4.74 in 2017. His average of balls put in play is similar, too: .311 in 2017 and .313 this year.
So why, then, does Knebel have a 5.08 ERA?
The curveball hasn't been nearly as crisp as it was last year and his fastball command certainly hasn't been sharp, either, which might be a lingering side effect from the hamstring injury he suffered in his third outing of the season that sidelined him for five weeks.
"It's a good question," Knebel said. "It's one thing Stearns was saying: 'We don't know what it was. It could be the leg, maybe it wasn't. Maybe it's something we can't see yet. No matter what it is, we're going to work on it and we're going to get it right."
That kind of work just wouldn't be possible in Milwaukee, especially with the Brewers locked into a tense race for a playoff spot. Unlike starters, who have the luxury of scheduled bullpen sessions between their outings, relievers, though, are always on call. Game by game, inning by inning. Throwing 20 to 30 pitches one day leaves them unavailable the next if the need arises.
"(Spring training) is the only time (relievers) get to work on things between outings because you know exactly when you're going to throw," Knebel said. "During the season, starters can work on things. We can't really do that. We can talk about things but we can't go out, throw a pen and work on things."
Manager Craig Counsell tried moving Knebel into lower-leverage situations in an effort to help him work through the problems but the results were no different. In 10 appearances since his most recent save on July 29, Knebel has an 8.68 ERA.
That left one other option: using one of Knebel's remaining minor league options so he could take the time necessary to work through his issues and Knebel has already gotten started. Players have 72 hours to report after being optioned so after getting a day off, Knebel spent the weekend in Milwaukee working with Johnson and Tunnell, including a full-strength bullpen session on Saturday.
"I'm going to use these 10 days to get back and ready to go," Knebel said. "September is really important. I'm going to do whatever I can to get right so I can do my job and help this team win."
Knebel will be eligible to return to Milwaukee on Sept. 2.