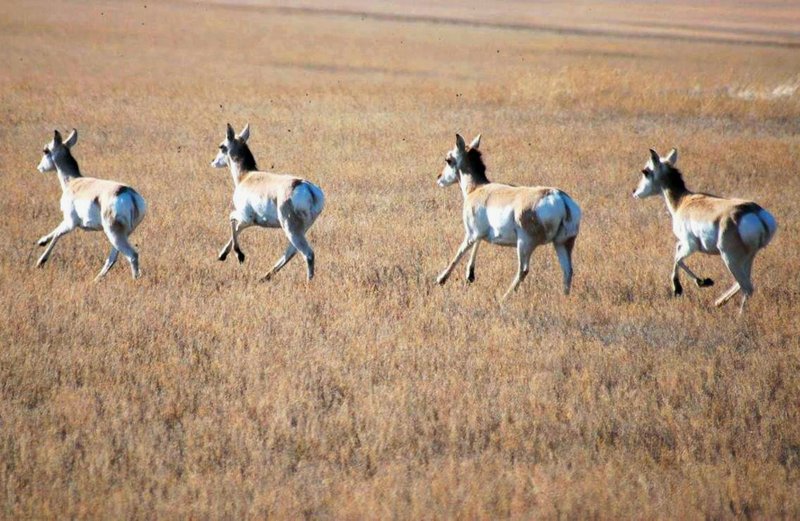 By BLAKE NICHOLSON
Jul. 25, 2017
BISMARCK, N.D. (AP) — North Dakota's pronghorn population and the popular hunting opportunity it provides have taken a blow this year, with both wet and dry weather cited as reasons.
A summer aerial survey conducted by the state Game and Fish Department concluded pronghorn numbers are down 14 percent from last year. The agency is offering 410 licenses for the fall hunt — a 44 percent drop from last year.
"Numbers were a bit disappointing, but not unexpected due to a combination of a tough winter and extreme (summer) drought conditions," said Big Game Management Supervisor Bruce Stillings.
Pronghorn in recent years have rebounded from a string of harsh winters in the early 2000s that decimated the population and prompted Game and Fish to cancel hunting seasons four years in a row, beginning in 2010, to allow the animals to recover.
Hunting resumed in 2014 with 250 licenses issued in one hunting unit. The following year 410 licenses were offered in three units, and last year there were 730 licenses issued with all seven hunting units opened. This year, only five units will be opened.
"We just don't have the numbers to support a season in those two (other) units this year," Stillings said.
Those units, at the northern end of the pronghorn range, were hit especially hard by cold and snow in December and January, state Wildlife Chief Jeb Williams said. The region this summer is experiencing the opposite — heat and extreme drought, which could impact both food and water sources for pronghorn.
Hunting of the animals that resemble the African antelope is popular in North Dakota, with thousands of hunters applying for the limited licenses that are doled out through a lottery process. The drop in population and hunting licenses is a setback, but there is still reason for optimism, Williams said.
"We obviously lost some critters from last year, but the good news is that the fawn-to-doe ratio was pretty good," he said. "That's encouraging to see."
The ratio was the highest in 15 years and a promising sign for future population growth, according to Stillings. If there's a moderate winter and even average fawn production next summer, there could be more hunting opportunities next year, he said.
Game and Fish is accepting license applications through Aug. 2. This year's bow season is Sept. 1-24. The gun season is Oct. 6-22.
___
Follow Blake Nicholson on Twitter at: http://twitter.com/NicholsonBlake