Residents in parts of coastal North Carolina and Virginia have experienced flooding after Tropical Storm Ophelia made landfall near a North Carolina barrier island, bringing rain, damaging winds and dangerous surges.
[deltaMinutes] mins ago
Now
READ MORE
Two years after US troops left, AP photographer Rodrigo Abd returned to Afghanistan with an idea: to use an old-style Afghan "box camera" to document how life has changed under Taliban rule.
Some archaeologists describe Peru's capital as an onion with many layers of history, others consider it a box of surprises.
[deltaMinutes] mins ago
Now
1:41
Seven-year NASA mission may find clues to origins of Earth life when asteroid samples return to Utah
Planet Earth is about to receive the biggest sample yet from an asteroid. A NASA spacecraft will fly on Sunday and drop off pebbles and dust collected from the asteroid Bennu. The capsule holding the sample will parachute into the Utah desert. (Sept. 22)
Seven-year NASA mission may find clues to origins of Earth life when asteroid samples return to Utah
Planet Earth is about to receive the biggest sample yet from an asteroid. A NASA spacecraft will fly on Sunday and drop off pebbles and dust collected from the asteroid Bennu. The capsule holding the sample will parachute into the Utah desert. (Sept. 22)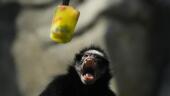 1:23
Ice pops cool Brazil's zoo animals
Animals at a zoo in Rio de Janeiro have been getting cold treats to cool them down during a rare winter heat wave on Friday. (September 22) (AP/Mario Lobao)
Ice pops cool Brazil's zoo animals
Animals at a zoo in Rio de Janeiro have been getting cold treats to cool them down during a rare winter heat wave on Friday. (September 22) (AP/Mario Lobao)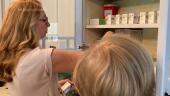 1:16
Gender-affirming care bans impact families even in states where it remains legal
Parents are facing challenges to continue treatments following gender-affirming care bans in many states. And even where it remains legal, some medical providers are wary of harsh liability provisions in laws and so they have abruptly halted care. (Sept. 22)
Gender-affirming care bans impact families even in states where it remains legal
Parents are facing challenges to continue treatments following gender-affirming care bans in many states. And even where it remains legal, some medical providers are wary of harsh liability provisions in laws and so they have abruptly halted care. (Sept. 22)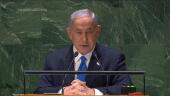 1:29
Netanyahu tells UN that Israel is 'at the cusp' of an historic agreement with Saudi Arabia
Israeli Prime Minister Benjamin Netanyahu says Israel is "on the cusp" of a historic breakthrough leading to a peace agreement with Saudi Arabia. (Sept. 22)
Netanyahu tells UN that Israel is 'at the cusp' of an historic agreement with Saudi Arabia
Israeli Prime Minister Benjamin Netanyahu says Israel is "on the cusp" of a historic breakthrough leading to a peace agreement with Saudi Arabia. (Sept. 22)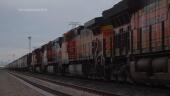 1:20
Mexico's largest railroad suspends freight service after upsurge in migrants hopping rides to US border
Thousands of migrants riding atop railway cars in Mexico this week or waiting in mile-long lines by the tracks to hitch a ride to the U.S. have triggered the closure of one U.S. border crossing and forced Mexico's largest railroad to suspend dozens of freight trains. (Sept. 22) (AP video: Alicia Fernández)
Mexico's largest railroad suspends freight service after upsurge in migrants hopping rides to US border
Thousands of migrants riding atop railway cars in Mexico this week or waiting in mile-long lines by the tracks to hitch a ride to the U.S. have triggered the closure of one U.S. border crossing and forced Mexico's largest railroad to suspend dozens of freight trains. (Sept. 22) (AP video: Alicia Fernández)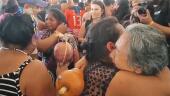 1:03
Indigenous people in Brazil shed tears of joy as the Supreme Court enshrines their land rights
Indigenous people in Brazil are celebrating after the country's Supreme Court ruled to enshrine their land rights. The decision Thursday removed the imminent threat those protections could be rolled back. The ruling came in a lawsuit brought by Santa Catarina state, backed by farmers, seeking to block an Indigenous group from expanding the size of its territory. (Sept. 22) (AP video/Eduardo François)
Indigenous people in Brazil shed tears of joy as the Supreme Court enshrines their land rights
Indigenous people in Brazil are celebrating after the country's Supreme Court ruled to enshrine their land rights. The decision Thursday removed the imminent threat those protections could be rolled back. The ruling came in a lawsuit brought by Santa Catarina state, backed by farmers, seeking to block an Indigenous group from expanding the size of its territory. (Sept. 22) (AP video/Eduardo François)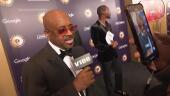 1:11
A.I. in music is hot topic at BMAC Gala
Jermaine Dupri and Flava Flav discuss A.I in the music industry at the 2023 BMAC Gala in Beverly Hills. (Sept 22)
A.I. in music is hot topic at BMAC Gala
Jermaine Dupri and Flava Flav discuss A.I in the music industry at the 2023 BMAC Gala in Beverly Hills. (Sept 22)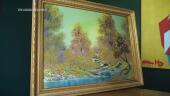 1:07
Bob Ross' first TV painting listed for $9.85 million
'A Walk in the Woods' was the subject of the inaugural episode of Bob Ross's iconic show, "The Joy of Painting." 40 years later, a Minnesota art gallery has listed the painting for sale in a bid get the artist's work in front of the public. (Sept. 20) (AP video: Mark Vancleave)
Bob Ross' first TV painting listed for $9.85 million
'A Walk in the Woods' was the subject of the inaugural episode of Bob Ross's iconic show, "The Joy of Painting." 40 years later, a Minnesota art gallery has listed the painting for sale in a bid get the artist's work in front of the public. (Sept. 20) (AP video: Mark Vancleave)