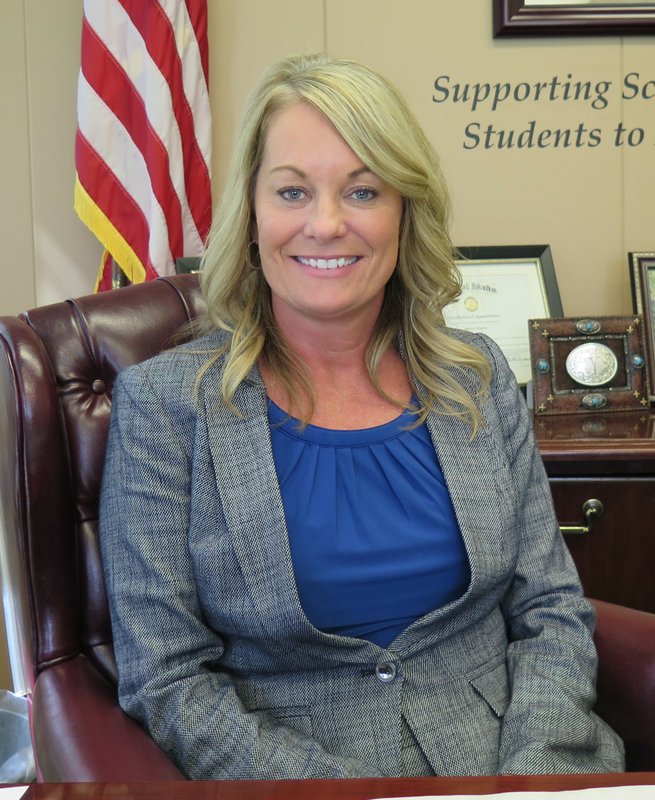 Idaho state schools Superintendent Sherri Ybarra unveiled her school budget proposal for next year on Tuesday, calling for a 6.8 percent, $122 million boost in state funding, including increasing teacher pay and a new school-safety initiative.
"These are the two things, since I took office, that I've heard that everyone wants," Ybarra said, "and here it is."
Her proposed $1.8 billion budget would not only cover the full, $52.9 million cost for the fifth year of the teacher "career ladder" plan that Idaho has been using to phase in higher teacher salaries, it also would add another $27.8 million. Ybarra said that would be enough to boost the base pay for a starting teacher up to $40,000 instead of the planned $37,000, and for a veteran teacher to $58,000 instead of the planned $50,000.
"This was the original intent of the task force recommendations," Ybarra said, referring to the governor's task force on improving education, which proposed 20 recommendations in 2013 to be completed over five years, including the career ladder. But the final rung in the ladder wasn't implemented.
Ybarra said Idaho teacher pay has improved over the past four years, but Idaho still is struggling to attract and retain teachers — particularly its most experienced veteran teachers. "As the teacher shortage grows in our state, it is compounded by the greater investments by other states in teacher pay," she said. "Study after study show that Idaho teacher pay, adjusted for inflation or not, is not competitive. Idaho simply isn't keeping pace, and that's bad for our students."
Cindy Wilson, the recently retired longtime teacher who's challenging Ybarra in the November election and who served on the governor's task force, said if elected, she'd go further.
"This budget is simply fulfilling a commitment that was made by the governor's task force," Wilson said. "This is the fifth year of the movement of the governor's task force toward education reform. What's next? What is the plan for after this year? Putting in the final rung on the career ladder was a recommendation made five years ago. … This is not a bold ask in my book."
Asked why she didn't propose funding the final career ladder rung four years ago, Ybarra said, "It wouldn't have been prudent as a leader to right out of the gate ask for those huge increases."
Her proposal would boost base salaries for new teachers by 8.1 percent more than planned next year, and for the most experienced, veteran teachers, by 16 percent.
"The decision was made on information and data," Ybarra said. "It would make the most sense this year. This was a task force recommendation, and it's the No. 1 priority of everybody that I talk to."
Wilson also took issue with Ybarra's proposed safety initiative, which calls for a one-time, $18.5 million supplemental appropriation, which would send funds out to districts during the current budget year in the form of grants for safety improvements. The initiative also calls for another $1.7 million next year to add a new course in school safety that would be state-funded and required for teacher recertification; a crisis communications counselor to help school districts; and a school safety tip line for students, parents or teachers to report threats or concerns. Ybarra said the state's Office of School Safety & Security has been working on a grant application to fund a tip line, but her proposal would put it in the budget.
She said the grant program was "the most misunderstood piece" of the school safety initiative she first floated last winter. "Folks thought it was about arming teachers, and it isn't," she said. Instead, school districts could apply for grants for anything from upgrading locks to increasing the security presence in their schools. The grants would be one-time; if there are ongoing costs, districts would have to cover those.
"I think the one thing that everybody has agreed on is we need to keep our students safe," Ybarra said.
Wilson said any school safety plans should be developed with collaboration from the school safety office and the associations of school boards, school administrators and teachers. "I feel like this proposal is simply putting a Band-Aid on," she said. "As a teacher, we have safety videos that we watch right now. … I've been visiting schools across the state. They've already put in updated locks and systems."
"What I'm hearing is it's not something that is going to solve the problem," Wilson said. "You know what would work to solve the problem? Ensuring that communities have the support needed to build facilities. A lot of our buildings around the state are over 100 years old."
Wilson said she'd also target funding to get rid of portable classrooms at Idaho schools. "Portables are the least safe way to house students in a safe setting, because they are completely exposed," she said.
Wilson, who serves on the state Board of Correction, said research also is showing that crime can be prevented by providing help to those who suffer trauma at young ages. "If we can get them mental health counseling early on, we can actually change their brains to cope with stressors," she said.
Ybarra's proposal also calls for a 3.5 percent increase in discretionary funds to school districts, similar to the increase approved this year. It boosts the Advanced Opportunities program from its current $15 million budget to $18 million; that popular program, which pays for high school students to earn college credit, has been running well over budget since it started. It would also increase professional development funding by $2 million next year; classroom technology by $3 million; and expand mastery education with a $1.4 million boost.
"We have a lot to be proud of," Ybarra said. "I'm very excited about my budget this year — I have a lot to say. I serve the people of Idaho as well as the students, and I think this is very reflective of what people have been asking for."
Wilson countered, "We need to create a budget which is a needs-based budget. First we take a look at what do we need in public schools, then we create a budget that fulfills those needs. … The best way to find out what schools need is to be in the schools, talking to people."