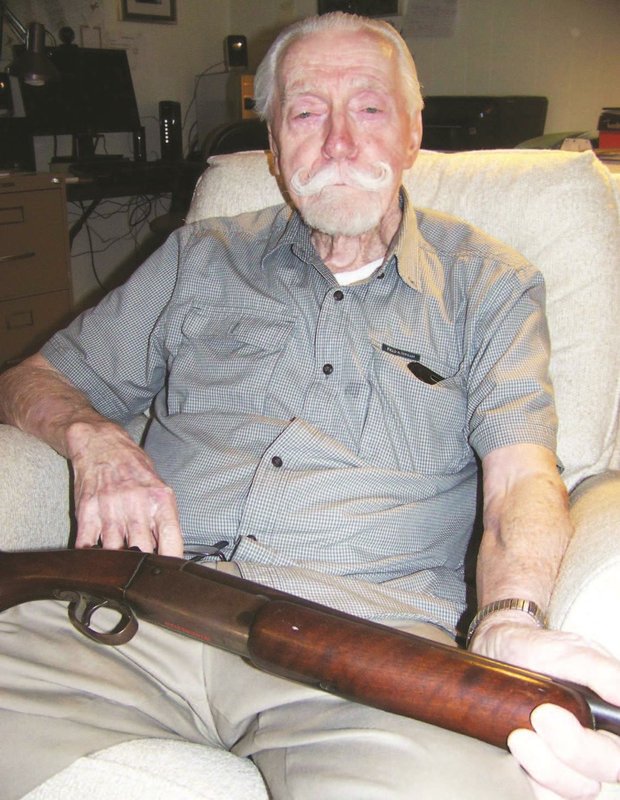 Relaxing with Norman Davis in his "man cave" basement, I listened to him talk about his life while music from the big band era played softly in the background. It added a comfortable touch to a most interesting morning. Shelves surround the walls with history books, a music collection and a lifetime of pictures. Davis feels his life has been a complete blessing because of the people who have been a part of it. It's obvious that his ability to design and create, along with his attitude for life, have provided a career that served him well.
"I was born in 1928 at St. Mary's Hospital," Davis said. "We lived on Elm Street but my older brother and I spent most of our time with our grandparents on Price Creek. We even attended Saunders Grade School on Green Valley Road. We were swimming in Beech Fork Creek before the dam was built."
Davis talked about life on a 150 acre farm with pigs, chickens and cows. He reminisced about cutting locust posts for fencing and fire wood for the cooking stove and the fireplace. He talked about his wire haired terrier named "Spotty" who had been one of the greatest squirrel dogs ever. Spotty could chase down a rabbit faster than Davis could load the shotgun. And he talked about the excitement during the summer of 1937 when electricity came to the farm.
"My grandmother was fascinated when all she had to do in the evening for lighting was flip a switch on the wall," said Davis. "It was interesting for me to just watch the electricians connect all the overhead wires to the house and barn. We always had good water that came from a spring a few hundred yards away. It wasn't too long before electricity pumped it to the kitchen."
Each year around Thanksgiving a single hog was butchered, Davis said they used everything but the squeal. What they didn't smoke, they canned and for a few weeks they had plenty of fresh ham and bacon on the table.
Christmas brought on the tradition of going with granddad into the woods looking for that perfect sweet smelling tree. It was decorated with tinfoil and other homemade ornaments including a few strings of colored popcorn. Gifts were always modest and usually something practical. Nothing ever as good as the model 37 Winchester 20 gauge shotgun he got for his 16th birthday.
"Even the bicycle our dad bought for my older brother was second hand/′ said Davis. "We argued back and forth so much about whose turn it was to ride it that dad bought another used bike for me. We walked to Saunders grade school. I don't recall the school ever being called Hite Saunders. I do remember a water dispenser at the back of the room with a single drinking glass for the entire class. When it came time for junior high we rode a bus to Oley where a teacher named Marian Vest sparked an interest in me with
commercial arts. An interest so intense that I built a career with it."
Davis should have graduated from Huntington High in 1946 but he dropped out for personal reasons and joined the United States Navy. Following a two year military career, he returned to high school where he completed his required classes and graduated. He spent his next two years at Marshall College courtesy of the GI Bill that paid $75 dollars monthly, far more than his old newspaper delivery route.
"I joined the Navy to see the world," Davis said. "And I saw a good deal of it, at least a good deal of the Pacific Ocean. I attended basic training at Camp Perry, Virginia, where the food was terrible with particular regards to all three meals. In addition to that, the camp was cold, windy and wet. After boot camp I took a troop train to San Francisco. I was assigned to the USS Moctobi, a 205-foot-long ocean going tug that did salvage work. For the remainder of my career, we sailed to Hawaii, Sipan, Guam, China, Japan, Philippians and other locations cleaning up after the war. We'd drag abandoned unserviceable crafts out to sea and sink them. For the most part it was an interesting job that taught me how to weld and repair steel. There were also times we discovered bodies in the wreckage. That became the most difficult unforgettable part."
While attending Marshall learning about commercial art, with a focus on interior decorating and design, Davis stayed busy working part time jobs around Huntington. He worked evenings at Bradshaw Diehl Department Store as a seasonal window decorator. He worked for Jeffrey Dewitt Glass suspension insulators making glass insulators for telephone poles and he worked at Cundiff Service station on 17th Street and 5th Avenue. He often went to class quite greasy after an all-night shift at the station.
"After Marshall my experience with welding in the Navy qualified me for a job on the river with Ocean Harbor Barge Company. This was a unique position that allowed me the privilege of doing 'trip work,' which basically meant I was available anytime they called and it lasted nearly 20 years. This gave me time to pursue other interests."
During his career, Davis worked at O'Neal Sign Company, Travis Sign Company and C&P Telephone Company, where he did graphics for service trucks. There was also a full time position at Sears and Roebucks as a window decorator and television salesman when the store was located downtown. He eventually opened up his own interior decorating business and became quite successful building a career based on value, honesty and quality of workmanship. He did interior decorating in many of Huntington's finer homes, Bailey's Cafeteria, area banks and the Guyan Country Club to name a few. He retired at 65 and still refused to stop completely until health reason forced him to quit in 2015.
"I feel like my bucket list is complete/′ Davis said. "I love reading history, listening to my music and looking after my two cats now."
And to prove this 90-year-old still has a spring in his step and a bit of laughter in his soul, he recently married again — the ceremony performed at Hillbilly Hot Dogs while wearing formal one piece bib overalls. Following the wedding an array of freshly prepared gourmet hot dogs was served.
Clyde Beal seeks out interesting stories from folks around the Tri-State. Email archie350@frontier.com.