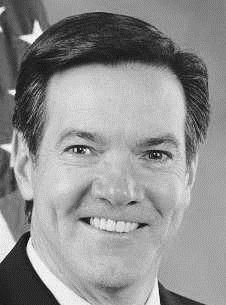 HUNTINGTON — U.S. Rep. Evan Jenkins, R-W.Va., announced Tuesday he has filed to run for one of the vacant seats on the West Virginia Supreme Court of Appeals.
"As a public servant, I took a solemn oath to always uphold our God-given constitutional rights, liberties and freedoms," Jenkins said in a statement. "Yesterday, the people's House of our state Legislature voiced what most West Virginians have been feeling: Our trust in the state's highest court is broken. Now more than ever, we need public servants who will put the people first, restore transparency and accountability in our Supreme Court, not greed and self-interest. ... West Virginia needs and deserves a justice who will put people before politics, uphold the constitution and fight for fair and equal justice for all."
He was referencing action by the state's House of Delegates to impeach the four remaining members of the state's Supreme Court.
Jenkins currently represents the 3rd District of West Virginia in the House of Representatives. He chose to run for Senate this year and was defeated in the primary by current state Attorney General Patrick Morrisey. According to the secretary of state's election candidate database, five others have filed: Harry C. "Bo" Bruner Jr., of Charleston; Carl E. Hostler, of Scott Depot; Brendon D. Long, of Hurricane; Marty "Red Shoes" Sheehan, of Wheeling; and Joanna I. Tabit, of Charleston. Supreme Court races are nonpartisan.
Two seats are currently open on the state Supreme Court following the resignation of justice Menis Ketchum in July and Tuesday's resignation by justice Robin Davis. A special election to fill both the seats will take place concurrently with the Nov. 6 general election. Candidate filings for Davis' seat open Wednesday, Aug. 15. Those individuals interested in either position have until midnight Tuesday, Aug. 21, to formally file. To accommodate the opportunity for any candidate to file in person, Secretary of State Mac Warner announced his office in the State Capitol, as well as his regional offices in Clarksburg and Martinsburg, will be open until midnight on that day.
According to Warner, Ket-chum's position will be identified as "Division 1" on the general election's nonpartisan ballot. Davis' position will be identified as "Division 2."
Warner encouraged candidates who want to run for either unexpired term and are also on a partisan ballot seeking election to another position to seek advice from the West Virginia Judicial Investigations Commission.
For any additional questions or concerns, call the Secretary of State's Elections Division at 304-558-6000.
Follow reporter Taylor Stuck on Twitter and Facebook @TaylorStuckHD.