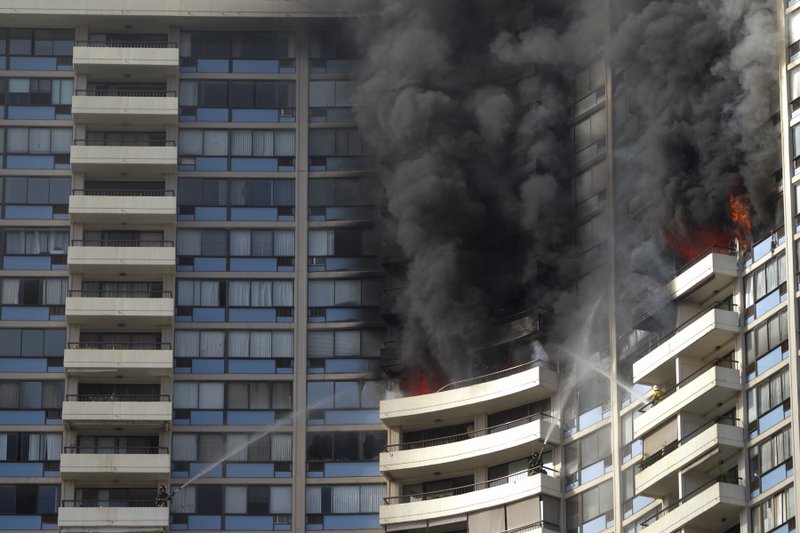 HONOLULU (AP) — The union for Hawaii firefighters has received complaints from members who say they did not have the right resources to respond to a fire at high-rise apartment complex that killed three, injured a dozen others and damaged hundreds of units earlier this month.
Hawaii Fire Fighters Association President Bobby Lee told Hawaii News Now in a story published Tuesday (http://bit.ly/2tBmhYp ) that the department's mobile command unit, which handles all communications and management at a fire, was sent to the Honolulu high-rise but then canceled.
"There's no reason for it not to be there," Lee said. "They spent a lot of money — public money — to have that resource available to our firefighters to not only protect them, but to protect the public. And there's absolutely no reason for it not to be there."
Honolulu fire Capt. David Jenkins said a discussion of the department's response to the blaze was set for Thursday.
Lee also said he has received complaints that rules on asbestos in the building were not followed once firefighters left the high-rise.
"You want to collect all of the personal protective equipment of the firefighters, bag it so you don't contaminate the trucks, take it back to the stations, contaminate the stations, and everything we've heard, that wasn't done," he said.
Lee also was disappointed that top fire department leaders were not present at a blaze this size.
"It really is a fire that requires all of the command people to be there, especially the executive staff," he said. "You got civilian deaths, you got over 100 firefighters there on scene."