BUSINESSWIRE PRESS RELEASE
Global Gutter and Roof Vacuum Cleaners Market 2018-2022 | Product Premiumization to Drive Growth | Technavio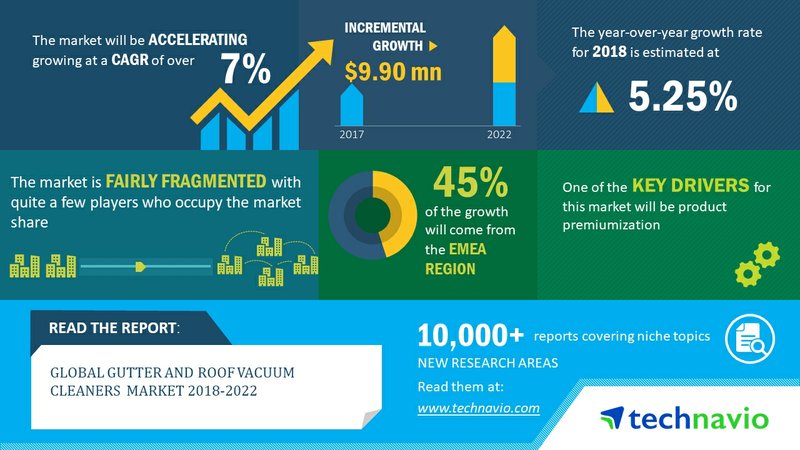 Global Gutter and Roof Vacuum Cleaners Market 2018-2022 | Product Premiumization to Drive Growth | Technavio
BUSINESSWIRE PRESS RELEASE
Global Gutter and Roof Vacuum Cleaners Market 2018-2022 | Product Premiumization to Drive Growth | Technavio
LONDON--(BUSINESS WIRE)--Jun 14, 2018-- analysts forecast the global gutter and roof vacuum cleaners market to grow at a CAGR of over 7% during the period 2018-2022, according to their latest market research report.
This press release features multimedia. View the full release here: https://www.businesswire.com/news/home/20180614005783/en/
Technavio has published a new market research report on the global gutter and room vacuum cleaners market from 2018-2022. (Graphic: Business Wire)
The adoption of smart technology is one of the major trends being witnessed in the . The existing market vendors are focusing on smart technology. The incorporation of smart features in vacuum cleaners increases their efficiency. There exists a high demand for advanced, smart vacuum cleaners. The installation of wireless cameras in vacuum cleaners helps in high-precision cleaning.
This report is available at a USD 1,000 discount for a limited time only:
In this report, Technavio analysts highlight product premiumization as a key factor contributing to the growth of the global gutter and roof vacuum cleaners market:
Global gutter and roof vacuum cleaners market: Product premiumization
Product premiumization is facilitated by technological advances and the demand for high-quality products that efficiently serve the customer. The end-users in the global gutter and roof vacuum cleaners market are willing to invest heavily in premium products. The increased sale of such products contributes to increased revenue generation in the market.
According to a senior analyst at Technavio for home, kitchen, and large appliances, "The launch of premium products has been increasing the degree of competition in the global gutter and roof vacuum cleaners market. This is urging multiple vendors to invest in new product development and product innovation strategies. This favors the growth of the market. The adoption of carbon-fiber technology will contribute to the development of high-quality products that offer increased convenience."
Global gutter and roof vacuum cleaners market: EMEA leads the global market
This market research report segments the global gutter and roof vacuum cleaners market into the following end-users (commercial, residential, and industrial) and key regions (the Americas, APAC, and EMEA). It provides an in-depth analysis of the prominent factors influencing the market, including drivers, opportunities, trends, and industry-specific challenges.
Of the three major end-users, the commercial segment held the largest market share in 2017, contributing to over 60% of the market. The market share occupied by this segment is expected to increase by almost 2% by 2022.
In 2017, EMEA was the leading region for the global gutter and roof vacuum cleaners market. It accounted for a market share of more than 50%. It was followed by the Americas and APAC. APAC is expected to project the fastest growth during the period 2018-2022.
Looking for more information on this market?
Technavio's sample reports are free of charge and contain multiple sections of the report such as the market size and forecast, drivers, challenges, trends, and more.
About Technavio
is a leading global technology research and advisory company. Their research and analysis focuses on emerging market trends and provides actionable insights to help businesses identify market opportunities and develop effective strategies to optimize their market positions.
With over 500 specialized analysts, Technavio's report library consists of more than 10,000 reports and counting, covering 800 technologies, spanning across 50 countries. Their client base consists of enterprises of all sizes, including more than 100 Fortune 500 companies. This growing client base relies on Technavio's comprehensive coverage, extensive research, and actionable market insights to identify opportunities in existing and potential markets and assess their competitive positions within changing market scenarios.
If you are interested in more information, please contact our media team at .
View source version on businesswire.com:https://www.businesswire.com/news/home/20180614005783/en/
CONTACT: Technavio Research
Jesse Maida
Media & Marketing Executive
US: +1 844 364 1100
UK: +44 203 893 3200
www.technavio.com
KEYWORD:
INDUSTRY KEYWORD: TECHNOLOGY OTHER TECHNOLOGY HOME GOODS RETAIL
SOURCE: Technavio Research
Copyright Business Wire 2018.
PUB: 06/14/2018 11:28 AM/DISC: 06/14/2018 11:28 AM
http://www.businesswire.com/news/home/20180614005783/en