Players, organizers agree deal to end cricket pay dispute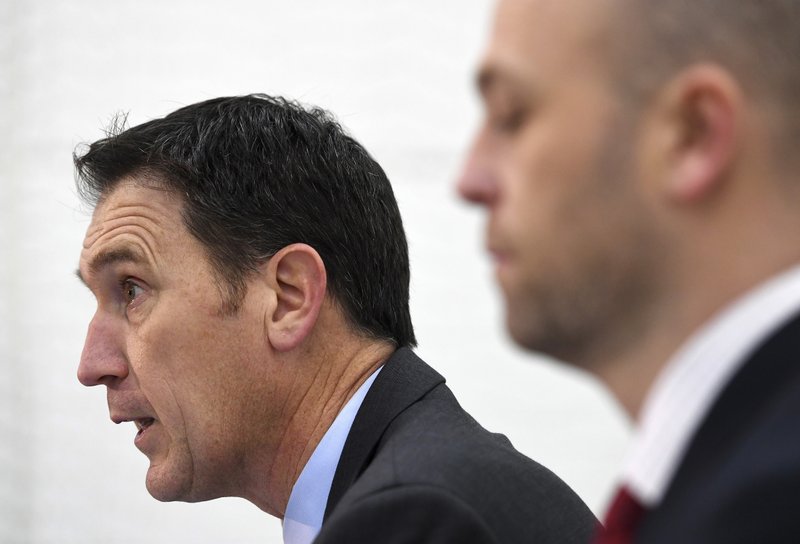 Players, organizers agree deal to end cricket pay dispute
Players, organizers agree deal to end cricket pay dispute
MELBOURNE, Australia (AP) — A bitter pay dispute between Cricket Australia and the players' union has ended with an "in-principle" agreement that will allow upcoming tours to Bangladesh and India and the home Ashes series against England to proceed.
About 230 of Australia's elite professional cricketers had effectively been unemployed since the previous pay deal expired on June 30.
But after 10 months of negotiations between Cricket Australia and the Australian Cricketers' Association, the players are set to get a pay raise, to maintain a revenue-sharing model — the subject of most discord in the dispute — and to get back pay for the period between the deals.
The result has been widely viewed as a win for the players.
Cricket Australia chief executive James Sutherland and union leader Alistair Nicholson held a joint news conference Thursday to outline an "in-principle" 5-year agreement that gives players up to a 30 percent share of agreed revenue, estimated to be up to 500 million Australian dollars ($400 million).
Nicholson said he expected the players, who are set to receive full back pay, to endorse the deal.
Sutherland conceded that the lengthy dispute had taken a toll on the game in Australia, and he was uncertain how quickly the relationship between the players and the administration could be repaired.
"It will restore much-needed certainty to cricket ... it will allow all players — state and international — to be contracted immediately," Sutherland said. "It's the result of a sensible compromise from both parties. Neither side has got everything we wanted."
Players boycotted a developmental "Australia A" tour to South Africa last month and, as the dispute become increasingly acrimonious, there were serious concerns among Australian cricket supporters — from the prime minister down — about the potential fallout if it wasn't resolved this week.
Steve Smith's test squad is now scheduled to assemble in Darwin next week to finalize preparations for a scheduled two-test tour to Bangladesh which starts with a warmup match on Aug. 22. A limited-overs series in India is scheduled after that, and before the Ashes series starts in Brisbane in November.
"It's been a long and challenging process and it's great that we can now get on with playing the game that we all love," Smith, the Australian test captain, said. "I'm excited that we can all start working together again to continue to grow our great game."
Australia coach Darren Lehmann posted his congratulations to both the players and Cricket Australia on Twitter, saying "Now for the great game to continue, and for all to entertain."
The most divisive issue in the dispute involved revenue sharing, with Cricket Australia wanting to scrap it after 20 years.
"To have retained the revenue sharing model and increased the level we have and ensure that men, women, domestic and international players receive a fair share is great news for the players and for the game," Nicholson said. "It's right that all players, men and women, will be partners in the game because that's a fair outcome. It ensures a game with all parties pulling in the same direction."
Nicholson said the players showed tremendous resolve in the dispute, with men's and women's captains and vice captains Steve Smith, David Warner, Meg Lanning and Alex Blackwell leading the way.
"Success in this negotiation for the ACA was achieving revenue sharing for all players, gender equity, fair remuneration increases, greater input on scheduling and more grassroots investment," Nicholson said. "I pay tribute to all of the players for their resolve. Enduring uncertainty and unemployment has been very difficult. They are terrific young men and women who have been rewarded for their determination."