BUSINESSWIRE PRESS RELEASE
Aircraft Engine Condition Monitoring System Market - Efforts to Optimize Engine Repair and Maintenance Costs to Promote Growth| Technavio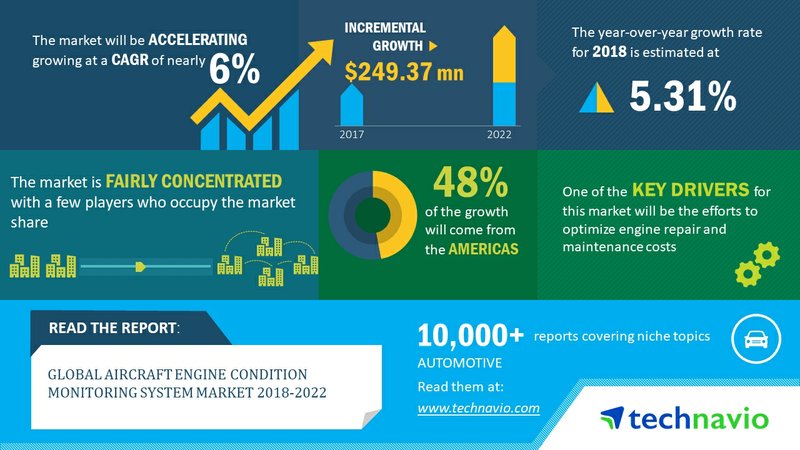 Aircraft Engine Condition Monitoring System Market - Efforts to Optimize Engine Repair and Maintenance Costs to Promote Growth| Technavio
BUSINESSWIRE PRESS RELEASE
Aircraft Engine Condition Monitoring System Market - Efforts to Optimize Engine Repair and Maintenance Costs to Promote Growth| Technavio
LONDON--(BUSINESS WIRE)--May 16, 2018-- research analysts have forecasted the to grow at a CAGR of nearly 6% during the period 2018-2022, in their latest report. One of the key trends being witnessed in the market is the use of conditional analytics for predictive maintenance.
This press release features multimedia. View the full release here: https://www.businesswire.com/news/home/20180516005738/en/
Technavio has published a new market research report on the global aircraft engine condition monitoring system market from 2018-2022. (Graphic: Business Wire)
The significance of predictive maintenance is well acknowledged by the major players in the industry. Condition analytics is an independent tool that serves as a manufacturer-independent platform for condition monitoring and predictive maintenance. With the condition analytics platform, a major vendor offers software that is developed specifically for condition monitoring and predictive maintenance. This system is implemented universally for presenting the actual condition of the fleet and predicts outages. This helps in implementing definite measures to prevent outages. The system also uses data and flight parameters from the quick access recorder (QAR) and/or direct access recorder (DAR).
This report is available at a USD 1,000 discount for a limited time only:
Save more with Technavio. Buy2 reports and get the third for FREE:
In this report, Technavio analysts highlight the efforts to optimize engine repair and maintenance costs as a key factor contributing to the growth of the global market:
Efforts to optimize engine repair and maintenance costs
Competent cost management is very important to achieve success in any industry. It is particularly critical in the airline business, considering its low-profit margins and unstable economic performance. Although the aircraft maintenance cost is not the highest direct operating cost, it accounts for a significant portion of the controllable costs. An aircraft engine is a major airplane component in terms of investment, operating costs, and complexity. However, its overhaul schedule is mostly independent of the regular maintenance check events of the aircraft. Modern engine maintenance is condition based and incurs a high cost. In addition, it is coupled with the risk of unexpected expenses.
According to a senior analyst at Technavio for , "Engine maintenance requires the engine to be removed from service for a shop visit and involves repair, performance restoration, or a full overhaul, depending on the engine model and design characteristics, thrust power, technical condition, and defined scope of work. As such maintenance procedures may range from less than one million to more than 10 million dollars. Thus, management of engine maintenance cost becomes highly imperative for airlines."
Looking for more information on this market?
Technavio's sample reports are free of charge and contain multiple sections of the report such as the market size and forecast, drivers, challenges, trends, and more.
Global aircraft engine condition monitoring system market - segmentation analysis
This market research report segments the global market by engine type (turbofan and turboprop) and key regions (the Americas, APAC, and EMEA). It provides an in-depth analysis of the prominent factors influencing the market, including drivers, opportunities, trends, and industry-specific challenges.
The Americas held a share of more than 47% of the global market. The increase in the demand for newer generation aircraft and reduced maintenance cost has led to an increase in the procurement of aircraft ECM systems. The global aircraft ECM system market will witness a significant growth rate during the forecast period.
About Technavio
is a leading global technology research and advisory company. Their research and analysis focuses on emerging market trends and provides actionable insights to help businesses identify market opportunities and develop effective strategies to optimize their market positions.
With over 500 specialized analysts, Technavio's report library consists of more than 10,000 reports and counting, covering 800 technologies, spanning across 50 countries. Their client base consists of enterprises of all sizes, including more than 100 Fortune 500 companies. This growing client base relies on Technavio's comprehensive coverage, extensive research, and actionable market insights to identify opportunities in existing and potential markets and assess their competitive positions within changing market scenarios.
If you are interested in more information, please contact our media team at .
View source version on businesswire.com:https://www.businesswire.com/news/home/20180516005738/en/
CONTACT: Technavio Research
Jesse Maida
Media & Marketing Executive
US: +1 844 364 1100
UK: +44 203 893 3200
www.technavio.com
KEYWORD:
INDUSTRY KEYWORD: TECHNOLOGY DATA MANAGEMENT MANUFACTURING AEROSPACE ENGINEERING
SOURCE: Technavio Research
Copyright Business Wire 2018.
PUB: 05/16/2018 08:45 AM/DISC: 05/16/2018 08:45 AM
http://www.businesswire.com/news/home/20180516005738/en