NC State's Bryant OK after being sent to hospital for X-rays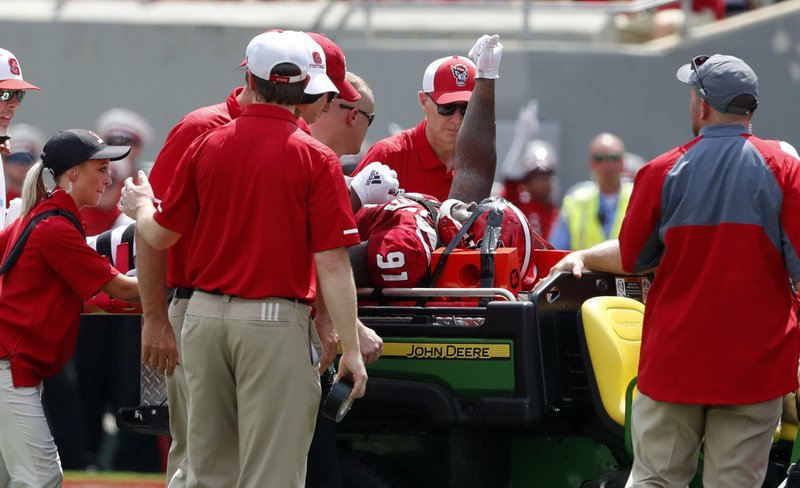 NC State's Bryant OK after being sent to hospital for X-rays
NC State's Bryant OK after being sent to hospital for X-rays
RALEIGH, N.C. (AP) — North Carolina State defensive lineman Eurndraus Bryant appears to be OK after he was carted off the field and taken to a nearby hospital for precautionary X-rays during the first half Saturday against James Madison.
Bryant gave a thumbs-up to the crowd as he was carted away. The school later said the X-rays were negative for a fracture and the team's Twitter account noted Bryant returned to the sideline by the end of the game.
The senior was hurt when he grabbed a fumble from quarterback Ben DiNucci and started running, but he bobbled the ball and went to the ground to recover it. Dukes offensive guard Jahee Jackson then dove onto Bryant to start a scramble, and Bryant didn't get up afterward.
Medical staffers strapped Bryant to a board with his teammates gathered nearby during a prolonged delay in a silent Carter-Finley Stadium. But Bryant immediately gave a thumbs-up when being lifted onto a cart then extended his right arm with another as the cart pulled away.
Coach Dave Doeren said afterward that Bryant remained alert while down.
"He said he hit the ground and his neck just locked up, so they had to do all the precautions," Doeren said. "He was fine. He was actually joking when he was down there that ... he was mad that he fumbled and all that kind of stuff. He's OK. I talked to him at midfield after the game."
___
More AP college football: http://apnews.com/tag/collegefootball and http://www.twitter.com/AP_Top25