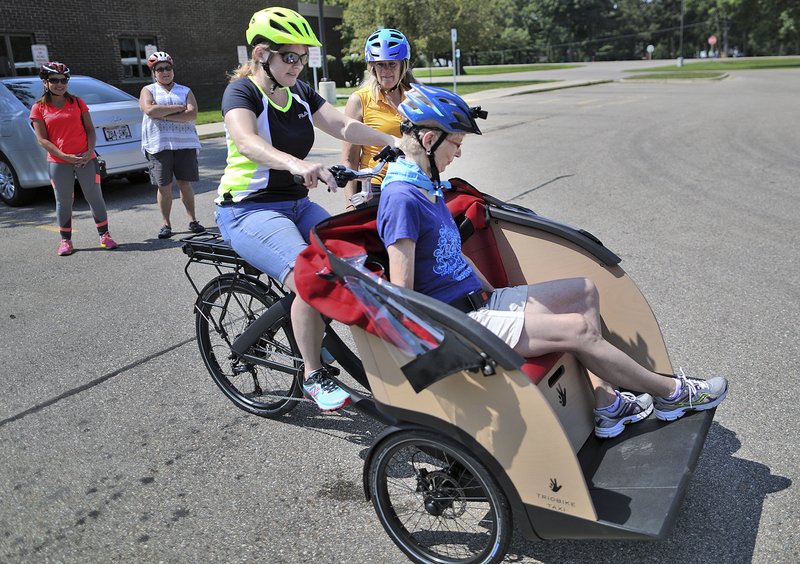 By JONAH BELECKIS
Aug. 11, 2018
JANESVILLE, Wis. (AP) — Losing the ability to walk on your own often means losing the ability to ride a bike for yourself, too.
For the elderly who perhaps cannot eat or sleep well either, seeing nature on a bike path or feeling a fall air can make them feel young again, said Michelle Bachaus of the Wisconsin Bike Fed.
Bachaus has been traveling Wisconsin and teaching communities about trishaws and how they can bring the joys of bicycle riding to those who cannot pedal anymore.
"It just brings new life to people," she told The Janesville Gazette .
Six members of the Janesville Velo Club recently learned how to pilot a trishaw, a cycling device that gives the elderly and disabled a chance to see the sights and feel the breeze of a bike ride again.
The two trishaws came from the Rock County Council on Aging, which paid about $10,000 for each of them, said Joyce Lubben, director for the council.
Shipping costs for the trishaws are high because the cycling devices that originated in 2012 are from Denmark. They came from a group called Cycling Without Age.
It is not yet clear how the program will work in Janesville, but Lubben said requests can come to the council, which will be managing the program.
She is hoping to make the program available to the whole county, but logistics remain a question. Riding the trishaw to Clinton is likely too challenging, Lubben said.
The volunteers can offer as much or as little of their time to piloting as they want, Lubben said.
Paul Murphy, president of the Janesville Velo Club, said another seven people will train to be pilots soon.
Bachaus' training came one day after she was in Stevens Point, and one day before she was set to be in Madison. She lives in Appleton.
In the council's conference room, Bachaus spoke of sharing the road "safely, comfortably and respectfully." She told pilots, as they're called, to avoid the door zone (3 to 5 feet from a parked car) and never ride on the sidewalk.
Of the four bike crashes she has seen in person, three were adults riding on the sidewalk.
Then Bachaus took the group outside, where she went through trishaw parts and procedures.
Since riders will have limited mobility, pilots should leave some elements to a responsible caregiver, Bachaus said.
But pilots should still check their ABCs — air pressure in tires, breaks and chains — and offer riders a helmet and blanket if they wish.
The pilots-in-training had their chance to take the trishaw for a spin in the parking lot, in part to get a feel for the electric assistance on the devices, which Murphy said are meant to help with inclines.
Beyond the technical details, Bachaus stressed the trishaws are a social program.
Some riders are quiet at the beginning, but once they get going many riders start "talking up a storm."
Lubben first saw the trishaws at a conference. She wanted to bring more smiles to Rock County, along with the health benefits from getting outside, she said.
Lubben said a recent local aging survey showed her the prevalence of one issue the trishaws could address.
"One of the things that came up repeatedly was social isolation," she said. "And, you know, (we're) just looking for ways to help people get outside and get connected. ... This is one way we can do that."
___
Information from: The Janesville Gazette, http://www.gazetteextra.com