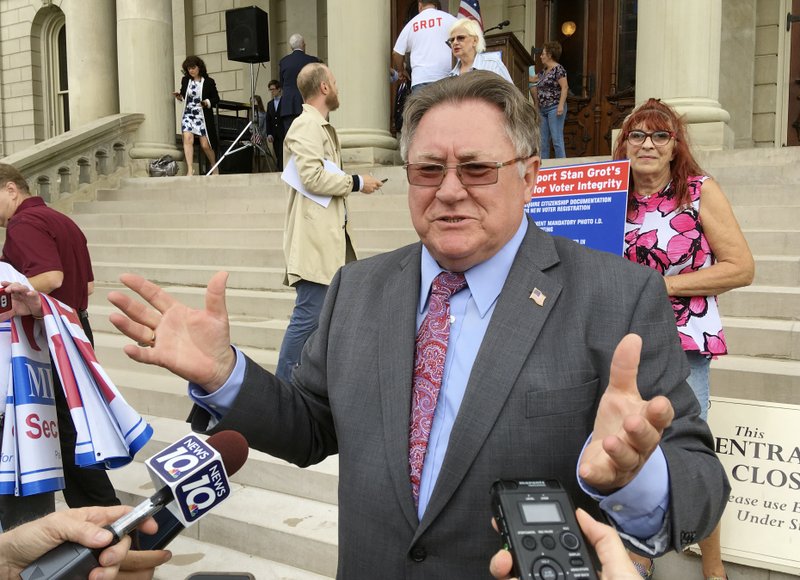 By DAVID EGGERT
Aug. 22, 2017
LANSING, Mich. (AP) — Republican Shelby Township Clerk Stan Grot launched his campaign for secretary of state on Tuesday, proposing a "voter integrity" plan with a strict photo ID requirement and other components he said would eradicate suspicions of fraud.
"I'm not saying there's fraud right now, but we need to remove any doubts that there may be fraud," Grot told reporters after announcing his candidacy on the Capitol steps alongside some two-dozen supporters. At the event, he was endorsed by freshman U.S. Rep. Paul Mitchell, whose district includes Grot's home turf of Macomb County.
"He's been a leader on conservative issues in this state," Mitchell said.
GOP and Democratic delegates will choose their secretary of state nominees at conventions next summer. Republican Secretary of State Ruth Johnson is barred from seeking a third term. It has been more than 22 years since a Democrat last held the office, which oversees elections and issues driver's licenses and plates.
Grot, a 65-year-old immigrant from Poland, contributed $63,000 to his campaign through late July. He will battle state Sen. Mike Kowall of Oakland County's White Lake Township and potentially others for the GOP nomination. Kowall, who had about $19,000 in his Senate campaign account that may be transferred to a secretary of state bid, said he probably will formally announce his candidacy in September.
"We're spending a lot of time out talking to people right now," he said.
Kowall said activists are worried about hackers tampering with elections and he is looking to propose related legislation.
"It's a major concern, although Michigan has a pretty good way of dealing with the voting situation because we have the optical scan machines," he said. Townships and cities "do a very good job" counting votes and while there is always room for improvement, he said, Johnson's "got them going in the right direction."
After a partial recount of the 2016 presidential election, state election officials attributed most problems to human error and said there was no evidence of widespread fraud.
Grot recently spoke at events organized by Republican backers of President Donald Trump who say they oppose "fake news." On Tuesday the former state House and congressional candidate touted his varied work experience.
He has owned and operated a restaurant in Hamtramck, worked as a mechanic, repairman and supervisor at General Motors and held positions at the secretary of state and attorney general's offices.
Grot's initiatives include using a federal database to unregister dead voters and making a photo ID mandatory to vote. Those without ID currently must sign a brief affidavit before voting. More than 18,000 people did that in the November election, which Grot said is "wrong" because an ID is required in "many facets of our lives" such as flying on a plane.
Senate Republicans late last year shelved House-passed legislation that would have toughed voter ID requirements. Democrats argued the proposal was unconstitutional and would have disenfranchised minorities and low-income residents.
Jocelyn Benson, Democrats' 2010 nominee for secretary of state, could run again in 2018. The former dean of Wayne State University's law school is CEO of the Ross Initiative in Sports for Equality, which brings together athletes to improve race relations and drive social progress.
___
Follow David Eggert on Twitter at https://twitter.com/DavidEggert00 . His work can be found at https://apnews.com/search/David%20Eggert