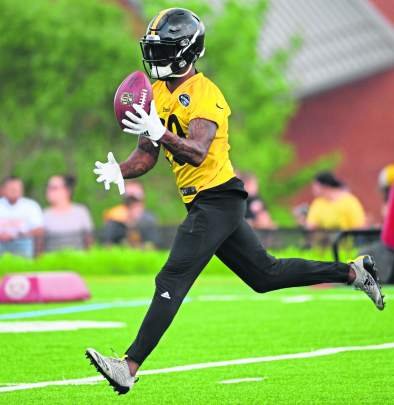 As the Pittsburgh Steelers prepare to trot out most starters for their third preseason game, which is Saturday against the Tennessee Titans, here is a look at some of the other players who will be on the Heinz Field grass. It's our weekly look at who's hot, who's not and who's getting a shot to make an impression on the coaching staff.
WHO'S HOT
James Washington: After catching two touchdown passes in the second half in Green Bay, both on balls that he had to wrestle away from a cornerback, Washington has started gaining more reps with the first-team offense in practice. Washington is solidifying himself as the No. 3 receiver behind Antonio Brown and JuJu Smith-Schuster.
Cameron Sutton: An injury to slot cornerback Mike Hilton has enabled Sutton to get first-team snaps in practice. Hilton won't suit up against the Titans, giving Sutton more experience at the position after working with the second team for much of training camp. Given Sutton's ability to play inside and outside, the Steelers would like to find him a position somewhere on the field this season.
Vince Williams: The veteran inside linebacker received some job security this week in the form of a four-year contract that will keep him with the Steelers through 2021. With Ryan Shazier's spinal cord injury, Williams has emerged as the leader at his position. He now has the paycheck that comes with such responsibility.
WHO'S NOT
Morgan Burnett: An injury has kept Burnett out of recent practices. He's probably not in jeopardy of losing his starting job, but his absence has enabled rookie first-rounder Terrell Edmunds to fill the void at strong safety. If Burnett's injury lingers, perhaps it could lead to a Wally Pipp situation at the position.
Nat Berhe: The player known as "The Missile" with the New York Giants had two special teams tackles last week against the Packers. But what stood out about Berhe was how he allowed Packers receiver Jake Kumerow to run past him en route to an 82-yard touchdown. What was worse was that Berhe was passed up by linebacker Matthew Thomas while trying unsuccessfully to track down Kumerow.
Joshua Frazier: The Steelers' seventh-round pick hasn't done anything flashy in camp or in limited preseason action - aside from being guilty of at least one illegal formation on special teams against the Eagles. With Dan McCullers pushing Javon Hargrave at nose tackle, Frazier faces a difficult path to earning a roster spot. Unless something changes in the next two games, he's ticketed for the practice squad.
WHO'S GETTING A SHOT
Quadree Henderson: The former Pitt return specialist will be the primary kickoff and punt returner in the second half against the Titans. Henderson has only fair catches to his credit through two preseason games. He needs to start showing his expertise as a returner if he hopes to stick with the team beyond the preseason.
Jaylen Samuels: Stevan Ridley's groin injury has opened playing time for Samuels, who has proven he can catch passes out of the backfield. The converted tight end had nine carries for 38 yards (a 4.2 average) against the Packers, and a similar showing could convince the Steelers that he's worthy keeping as a two-way threat at running back.
Marcus Allen: Injuries have slowed Allen's development, and he didn't play against Green Bay. Allen has resumed practicing in recent days and needs to make plays over the final two weeks if he's going to earn one of the backup defensive back spots. His path to a roster spot will be determined by how well he plays special teams against the Titans and in the final preseason game against the Carolina Panthers.