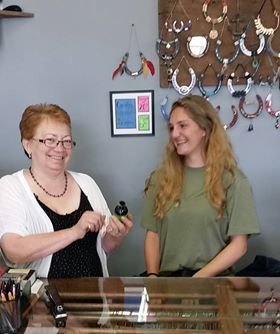 Back to school brings more shoppers, not just to the big box stores, but to thrift stores. It's time to look for items to furnish that apartment or dorm room, or for some designer-made clothing on a budget.
Also it's a time, when the kids are in school, to discard the dusty collectibles and find new items to furnish your home.
Catch My Thrift, in Stewartville, gives you that opportunity. The new owner is Betty Butters, who purchased it from Stacy McConnell.
"All my adult life I have been into the buying and resell business," Betty said. "I had an eBay business, while my children were young, so I could stay home with them. I paint and create art that I also sold. It has been my passion to have my own store one day.
"I love thrifting so it makes sense that this is the store to own. The business name is the same. I purchased the business this July. It was already established for 13 years, so the name came with it. I love the name. I moved the store next door on Aug. 1 this year."
Great move
This was a great move, Betty says.
"Originally this building was the old Boyum's grocery store, I am told," she said. "Apparently there were a couple of other businesses in here in the past, I know it has been empty for some time. There is over 3,200 square feet in the store area, 5,000 total that includes my large back room to receive products, buy and price, also a large basement for storage. One can always use more square footage, right?
"I use the entire store for displaying of merchandise. I will be adding a workshop in the basement as time allows. I was very fortunate to find everything I needed to create the displays from folks in the area. We did use the Restore in Rochester to find some treasures.
"My husband has helped and built many of the displays," Betty said. "We worked together to get the store moved and set up, he also does the books. I had family and friends help display items and move, I am so grateful for all the help. The exterior is original and the interior we painted cement floors and walls and added some carpet. The displays make the most changes in the store."
The thrift shop
"I really only get a few antiques that I put on the floor," Betty said. "I love repurposing items myself and hope to be able to do that and include some of my own paintings. We get a lot of items that are still new with tags that make wonderful gifts. I would like to think it is an all-purpose shop, but thrift shop it is.
"I have most of my items brought to me by sellers in the area," she said. "I have also gone out picking myself, as that is one of my passions. I love to decorate, so those items always are of interest to me. I am also working on enlarging the men's area to include fishing, hunting, man cave items. At this time I do not have vendors in my shop on consignment, but do have items a friend makes that I have displayed for her. As of right now, and until I get further settled in, I am doing just the thrift thing, but as we all know things can change. I do change for the seasons. Fall decor is coming out along with up coming holidays."
Betty says her store displays attract attention.
"I think it's because everything is recycled or repurposed, my displays are made up of old ladders, chairs, barnwood, etc.," she said. "The customers remark on the displays the most. I want people to come to see how they, too, can repurpose things they already have. That is a good reason to come take a peek at my store, plus I have great prices."