Fires disrupting visitors at Montana's Glacier National Park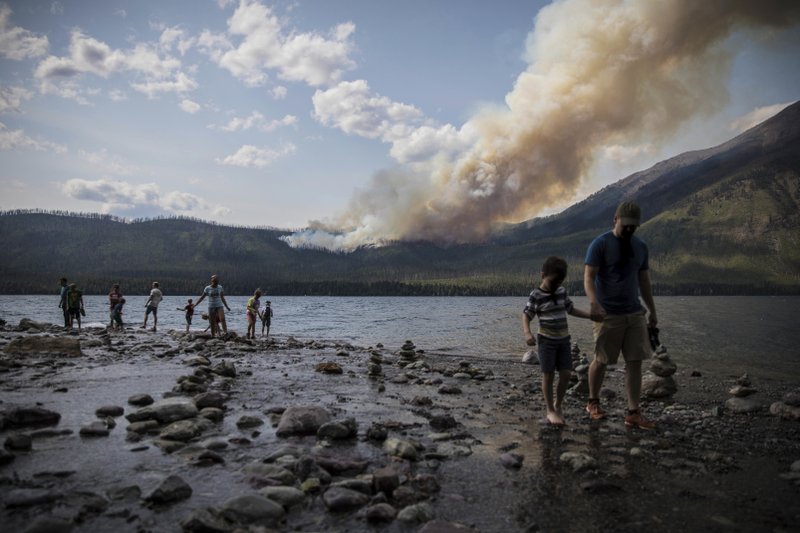 Fires disrupting visitors at Montana's Glacier National Park
Fires disrupting visitors at Montana's Glacier National Park
KALISPELL, Mont. (AP) — Wildfires that have kept portions of Glacier National Park closed for two weeks are scrambling visitors' plans and prompting some to cancel their trips.
Much of Glacier's famous Going-to-the-Sun-Road has been closed since Aug. 12 because of a fire that has burned more than 19 square miles (50 square kilometers) and destroyed historic cabins and other structures around Lake McDonald.
It's the third time in four years that fires have shut down the iconic road. More than 140 miles (225 kilometers) of hiking trails in Glacier also were closed as of last week.
Tourism usually slows in August, but this year has been especially tough, said Phyllis Jackson, who owns a gift shop in Apgar Village near Lake McDonald.
"People are not hanging around Apgar if they can't see the lake," Jackson told the Flathead Beacon newspaper. "Once the fires hit, there's always a big drop in business."
The fire burning around Lake McDonald was started by lightning on Aug. 11. It burned through an area with historic cabins and lodging, destroying 27 structures and triggering the hasty evacuation of hundreds of visitors.
Helicopters dropped water on the south end of the fire over the weekend to keep it from spreading. Cooler temperatures and rainfall forecast for Sunday night into Monday were expected to slow but not extinguish the blaze.
Final visitation numbers will come out next month, Glacier spokeswoman Lauren Alley said. While the fires likely have driven down visits, some areas of the park have become busier than usual as tourists look for less smoky destinations, Alley said.
Tourism is a major part of northwestern Montana's economy. Visitors to Glacier spent an estimated $275 million in 2017 on food, lodging and other services during their trips, according to a National Park Service analysis. That means the ripple effects of the fires extend beyond the park.
Dylan Boyle, executive director of the Whitefish Convention and Visitors Bureau, said he has heard from a number of hotels that people are canceling their reservations well into the fall.
Boyle tells potential visitors that there are still other things to do in northwestern Montana, and conditions can change quickly.