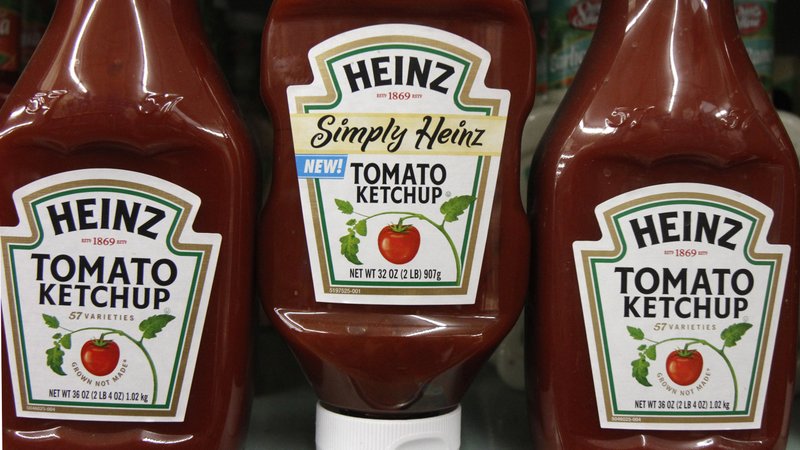 By CANDICE CHOI and MICHELLE CHAPMAN
Feb. 18, 2017
NEW YORK (AP) — Kraft Heinz's $143 billion offer to buy Unilever was spurned, but the ketchup, cheese and lunch meat maker is still hungry to expand its domain.
Unilever, which make mayonnaise, tea and seasonings, said the offered price was too low. Kraft said it's still interested in a deal. If Unilever proves a resistant target, analysts said the company may look elsewhere.
J.P. Morgan analyst Ken Goldman said he always believed Kraft Heinz, itself formed from two century-old businesses in 2015, would "mostly be used as a vehicle to buy and operate" food brands. Given Unilever's stable of personal care products such as Dove soap, Bernstein analyst Ali Dibadj said the offer signaled that Kraft Heinz is potentially open to acquiring other packaged consumer goods, not just food.
The proposed deal would bring together Kraft Heinz brands including Oscar Mayer, Jell-O and Velveeta with Unilever's Hellmann's, Lipton and Knorr, rivaling Nestle as the world's biggest packaged food maker by sales. Shares of Kraft Heinz and Unilever surged Friday as investors saw prospects for cost cutting.
Such acquisitions might not lead to big changes that customers would notice on supermarket shelves. But it's people's shifting tastes that is partly driving deal-making in the food industry.
Part of the challenge is the proliferation of smaller food makers marketing products that seem more wholesome, which makes it harder for the established companies to drive up sales simply by selling more of their well-known products or by raising prices, as they have in the past.
"That obviously has its limits," said David Garfield, head of the consumer products unit at consulting firm AlixPartners.
Instead, major packaged food companies are being forced to dig deeper to find cost efficiencies or tap into new markets, Garfield said. That can include mergers that result in consolidated manufacturing systems, or that give companies access to distribution networks in regions of the world where they don't have a big presence.
Those were some of the factors that drove Oreo and Chips Ahoy maker Mondelez International — which was split from Kraft in 2012 —to make an unsuccessful takeover bid for Hershey last year before retreating. And they were among the reasons cited by executives in the Kraft Heinz tie up, which was engineered by Warren Buffett's Berkshire Hathaway and 3G Capital, the Brazilian investment firm with a history of taking over companies and aggressively cutting costs.
Bernardo Hees, a 3G partner, has slashed jobs and pursued other savings, some of them granular, as CEO of Kraft Heinz. In a 2015 memo to employees, Hees reminded them to print on both sides of the paper, reuse office supplies like binders and turn off computers before leaving the office to cut down on energy costs.
The company also stopped stocking the corporate office with free Kraft snacks.
Unilever follows Nestle, PepsiCo and Mondelez as the world's biggest packaged food maker by retail sales, coming in ahead of Kraft Heinz, according to Euromonitor International. In addition to its food products, it sells health and beauty products such as Axe body spray and Dove soap.
In the meantime, food and drinks companies like Coca-Cola Co., General Mills Inc. and Kellogg Co. are also under pressure from Wall Street to slash costs and find products that suit the shifting customer preferences.
While mega-deals are tough to pull off, they've made an array of acquisitions of smaller, faster-growing brands. Campbell Soup is trying to shed its canned-food image, and has bought juice and bagged carrots maker Bolthouse. General Mills now owns Annie's, Hormel owns Applegate meats and Justin's nut butters, and Dr Pepper recently bought Bai Brands, a maker of drinks sold as rich in antioxidants.
Shares of Kraft Heinz closed up nearly 11 percent Friday. Unilever PLC jumped 14 percent.
____
Follow Candice Choi at www.twitter.com/candicechoi